So this is how I do my loves each day. I've got a little pad I've printed up. It has all of my loves on it. Each day I rip off a page, and carry it with me everywhere I can. And then I just look for opportunities to follow the directions on said piece of paper. Sometimes I have to reread it a bunch. But it's a pretty easy plan.
So here's a real example. I've got to be on the laptop – you know – blogging and all. It's a priority. So I get to work.
Laska the love kitty wants food.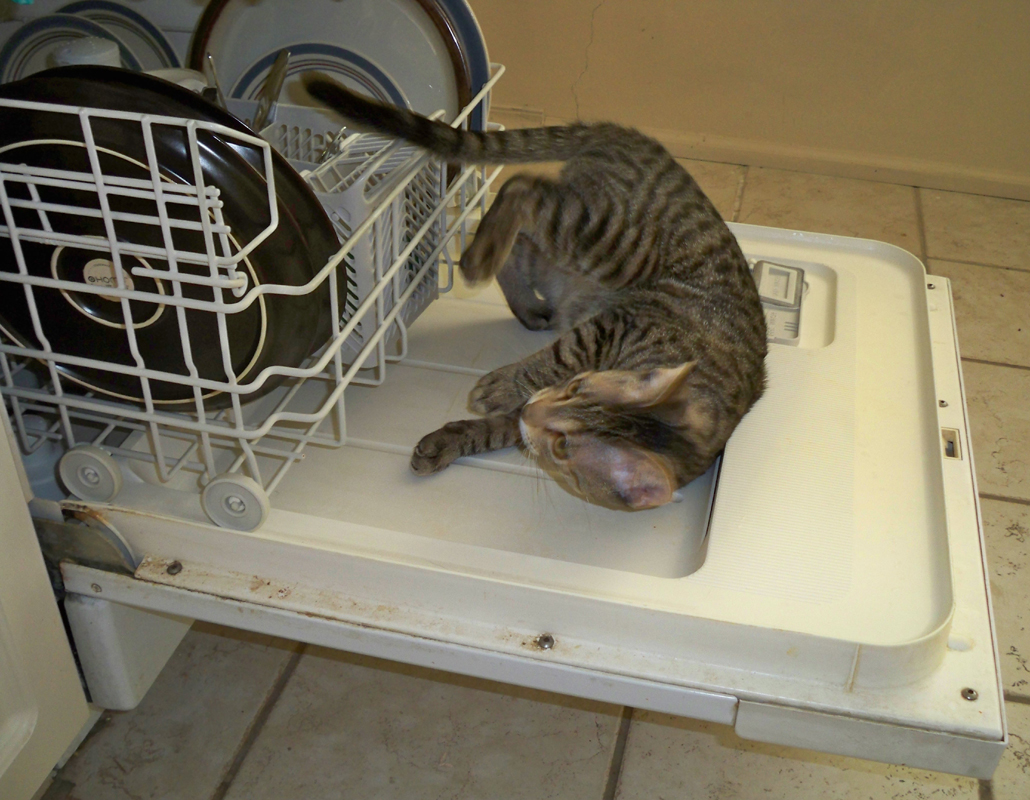 I know this because he's taking knives and forks out of the dishwasher and setting a place for himself at the table. So do I wait for the meows? Do I write as long as I can before I have to give in? Do I wait for him to start throwing cans of cat food at me? Nope. This is easy. I move the laptop to the side. Put away the forks and knives. Explain to the love kitty, for the umpteenth time, about the bowls on the ground. And feed the love kitty before he asks. He goes first.
Now most of you don't have to leave the house to practice love. It's actually in the house where you will have gloriously endless opportunities. But if I stay home, it's just me and love cat.
So I go shopping. I've got a love tucked in my pocket. It's a clear mission. I make my way to the store and the only challenge is a tie between me and another car at a stop sign. I wave them on. Cake.
Now I stand with my two items, in a line the size of one of those Chinese Dragons in a parade.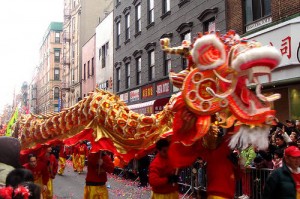 But a least I'm near the front end of the dragon. The line moves like it's in a hurry to get to yesterday.
Yesterday – see what I did there?
Finally I'm second in the line. Then there's a stirring to my left. And the words, "Next customer can come here!" This irks me a little. I think longingly of tomorrow when I'll be free to stampede my way over numerous and varied people to get to that other register first.
To the woman behind me I said, "Go ahead." She has kids, a full cart, and it's clear that that she's having a tough day. I know this because one of her kids is sitting on my shoetops. Really. She brightened up like I just handed her round trip tickets to Hawaii – 1st class accommodations, and a free babysitter for the kids while she was on vaca.
"Really?" she said.
"Yeah, sure." It felt good. I wasn't so irked anymore. I was a nice person and darned proud of it.
But then there was a card problem with the customer in front of me, meaning he had none. Out to the parking he ran like the wind sauntered. The clerk tapped the glass counter, avoiding eye contact.
The woman behind me. The joyous woman enroute to Hawaii. She waved goodbye on her way out. She said thank you. I smiled and waved back. Then I noticed all the good people who were in line behind both of us were flying out the front door, like happy little Disney bluebirds.
Six seasons changed outside the store window. And one person at a time, people behind me peeled off to the other register – each sure to gain my tacit nod of permission first.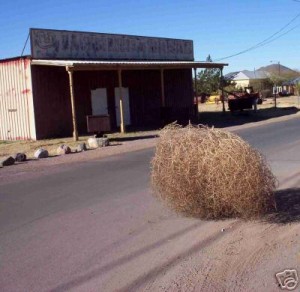 A tumbleweed rolled by.
Then the man rushed moonwalked back in
then there's a price check,
and the mysterious vacating of the clerk for a few minutes,
and wrapping of the dishes and cups that the person bought
one. by. one.
In newspaper.
Which ran out.
The extra newspaper was not conveniently behind the counter. Which was not convenient at all.
Then there were no more people behind me.
I nodded and smiled. What are ya gonna do.
I watched as the frenzied search for newspaper continued – numerous people involved. It resembled something like squirrels looking for the one last acorn of fall.
There are no more people to wave goodbye to now. And the other register – seeing that there were only two people needing to check out, disappeared like a magic act.
then paper was found.
then the wrapping continued
one. by. one.
and the dishes were wrapped more securely than the baby Jesus
Then…
It was my turn. I looked to make sure nobody else was there, just the tumbleweeds, so I stepped up.
So the challenge today. Should you decide to accept it – is that everybody else goes first. Now if you're a mom – it's a little unfair – because you are already experts at this game. But for everyone else, this is the day when all the other people in the world have the golden ticket.
It's just for one day. I hope it's fun. And tomorrow come back and leave happy little stories of how you saved the world with love.