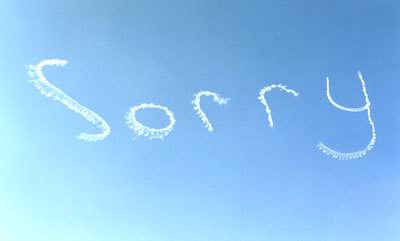 So it happened. I was careless. I messed up. I apologized. I acknowledged I was wrong. I asked forgiveness. But none was forthcoming. The backlash was quick
and devastating
and crushing.
and relentless.
And unexpected because the whole thing involved Christians. I can't judge. There is only one judge. There's the whole log in the eye thing – and I've stomped all over some darned good apologies in my time.
It's a strange turning of the tables – where the one who was wronged in the first place, becomes the one offending. The temptation I hear is this,
"Good, now things are even.
I don't have to say sorry anymore
because they haven't forgiven me
and now I don't need to forgive them either –
same reason!"
But love says otherwise. And if I don't love, then what am I? A clanging gong? A useless vessel? Love is everything, and love forgives when it's not forgiven.
And so, the me that is busy chasing after bitterness, and flagging down revenge, is halted immediately by this love. Sorry sometimes goes unrequited, and that is not grounds for canceling the sorry and ceasing to forgive.
So today I let it go. Love apologizes and forgives regardless of receiving forgiveness. I was wrong. It is mine to to say sorry. It is mine to make amends, make up for the wrong. It is mine to ask forgiveness. Then nothing else is mine.
This is a love that in which it is hard to abide. The bitterness that can spring from an unrequited sorry is like a stray kitten. It's not cute like a stray kitten but it shares one thing. The only way to keep it from coming back is to not to feed it. Not the kitten – always feed the hungry stray kitten.
Love feeds stray kittens.
But love starves bitterness.
The whole point of deep into love is that love is impossible to do all the time. Only one person ever loved perfectly. I am not him. I am to strive to be more like him. But I am not him. Our Lord, he'd let this go. Done. He wouldn't allow resentment or bitterness to have any sort of safe haven to return to.
This day. This one day, I will choose to let it go completely. No thoughts about it. And if the thoughts try to make an entrance – I'll pray. Nobody says I have to do this all by myself. I may not be able to love perfectly all the time, but I can let this go for one day right? One day, all day, the unrequited sorry doesn't matter.
My original offense, that matters. My sorry, and amends, they matter too – because, when it's needed, love apologizes and rights wrongs. But what does not matter is the unrequited sorry. It mattered to me yesterday. It mattered hard. But not today. Tomorrow? Well tomorrow has enough worries for itself. Today I let it go.
I know mine is not the only unrequited sorry out there. If you have one, love says to
Let
it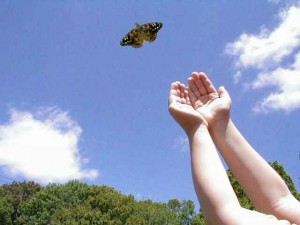 Go
Tomorrow is tomorrow. Today is today. Today love says – let it go. I'll be letting go of mine. It is possible that I have the only unrequited sorry out there. If so, it'll be a party of one. But if not, there's plenty of room at my table. I'll save some seats.
Thank you Shell for letting me get this out.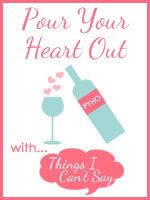 In God's love