I am grateful…
37. for days that simmer slowly, where moments don't escape notice, where I let life simmer – and I absorb the minutes as I meet them.
38. for days where I engage in the time as it passes, and  I live in the present, even, steady, unwavering,  in the now.
39. for days when I choose to live peaceful and serene – whether surrounded by chaos or clarity – amid turmoil or calm.
40. for home schooling moms, the more I know, the more in awe I stand.
41. and for moms period, the moms who try hard, you make everything work, you are the center, you are the heart.

42. and for my mom, God, she was incredible, hope she's not giving you a hard time about tracking mud on her floors.
43. for a pinpoint of light in the midnight sky, that pointed the way to a babe in manger, alpha omega, beginning and end, Savior and Lord.
44. for poetry, where each word means something, and if you blink you miss a nuance that brings everything together.

45. for November, as it vanquished leaves from trees, it's bluster blew in a new dream, a tender sprout, hoping to grow, resting in the will of God.
46. for Bethlehem-Ephrathah, too small to be among the clans of Judah, from whence came forth the one whose origin is from of old, from eternity.
47. for the flame that burned 8 days, when no oil could be found, the miracle of Hanukkah that points the way to Christmas.
48. for the shadows that were put to flight, as the star of Bethlehem shed it's light, and God drew near, Immanuel, God with us.
49. for the light of humanity, the light that shines in darkness, that darkness could not overcome
50. for angel voices, and sleighbells, and glad tidings,  and the heaven born Prince of Peace, and for silent nights that still the heart and let Him in.
51. for faith having a handmaiden named doubt. It is the role of a handmaiden to serve and assist. She stands by, at a distance, to encourage and champion the cause of the maiden.
52. that I was once well acquainted with the handmaiden, and have left her behind, for the maiden alone.
53. for the inspiration I receive from truly astonishing bloggers, that fills my heart, and head, and sometimes spills over to my written words.
I join Ann Voskamp and a cast of – well – very many in being thankful today.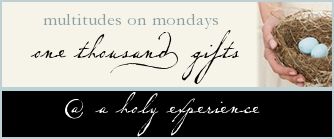 In God's love.