There is a very kind and tenderhearted woman I know. There were some things that needed saying. There was some truth that needed to be told. These weren't easy things to say. She could have chosen the smoother path and swept everything under the rug. But then, nothing would have changed – nothing would have improved, and truth would have gone unsaid.
She didn't blurt things out. She took the time to measure her words, and thoughtfully construct what she wanted to say.  There were issues on the table and her only intent was to glorify God with a right response. This she did. I told you she was a kind and tenderhearted woman. She spoke the truth with delicacy and tact.
This was a good thing. Because the things that were said could have been hurtful.  And as each word came out I thought;
"A bruised reed he shall not break, and a smoldering wick he shall not quench…" (IS 42:3)
There are moments when that little extra bit of compassion is required in the truth telling. This was one of those times. We put on facades. I know I do. I know if I'm insecure, and uncertain, nobody can tell – unless I tell them.  I can fake bravado as well as anyone I know. Nobody can see behind the mask.
Well, some people can.
Those people tend to be the same ones who do this love well.
She could have taken that bruised reed and obliterated it. She could have seen the flame flickering and deprived it of oxygen until it died. But instead she  glorified God with a right response.
Love speaks the truth with delicacy and tact
Truth was issued, blunt, forthright, but sincere and genteel.  Benefit of the doubt was extended, even though she wasn't convinced it was justified. Love, in an effort to be gracious, often goes beyond what is justified.
The words were uncomfortable. Truth often is.
We varnish it,
we avoid it,
we hide it,
we use it as a weapon,
we use it as an excuse,
we often bend truth to our own needs
instead of lining up with it.
Straight and forthright and in love.
This woman I have respected. She is deserving of the high opinion I have for her. But just as you never know who's a hero and who's a coward until the battle reveals the character. Her character lies exposed now, and it measures up sensationally.  I can only respect her more after this, hold her in higher esteem.
Truth in love is a tightrope
and how many of us can do it well?
I'm not raising my hand too quickly.
Our Lord did it well though. He was was candid, frank, straightforward. There were times when delicacy and tact were intentionally not used. Maybe Our Lord knew enough to be able to tell when to use phrases like "brood of vipers" "Satan's offspring". But the wisdom it takes to always be able to choose those moments correctly – I don't think any of us has.
Then, he also knew to speak the truth with delicacy and concern, like he did with Peter. Before Our Lord told Peter that he would deny him – before Peter had a chance to get defensive, which happened anyway, he gave Peter hope. If the apostle was listening close enough he would have heard.
Our Lord took great care not to extinguish the flickering flame.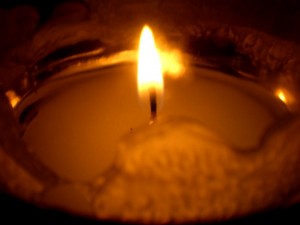 "Simon, Simon, behold Satan has demanded to sift all of you like wheat, but I have prayed that your own faith may not fail; and once you have turned back, you must strengthen your brothers." (LK 22:31-32)
Then he told him about his future denials. Only after telling him that although he would turn away,  he would turn back. The truth was told, but Love spoke truth with delicacy and tact.
Today I'm going to look to repeat the act of one brave, honorable, loving, Christian woman. Today I'm on the lookout for bruised reeds, and flickering flames and being careful with the words I choose. That's my love mission for the day. I'd love it if you adopted it too.
Since I don't often enough observe boundaries..
and because I know I step over lines…
and because my mouth speaks before my brain is engaged…
today I'll engage the brain, be careful with my words, and watch closely for those lines – and look to speak truth where it's needed – with delicacy and tact.
In God's Love