­­­­­­­­­­­­­­­­­­­Today's post is inspired by the brilliant Rae from There is no wealth but life. Every post I've read of hers is terrific. The post that inspired this one was about housework sharing. She used the word "love" in her post 27 – count 'em, 27 times. I heart that!
Love is my thing. How could I not "love" her post. I loved it so much I wanted to love it here too. So, let's see, what shall be my thesis? Simple, but to the point.
Love does housework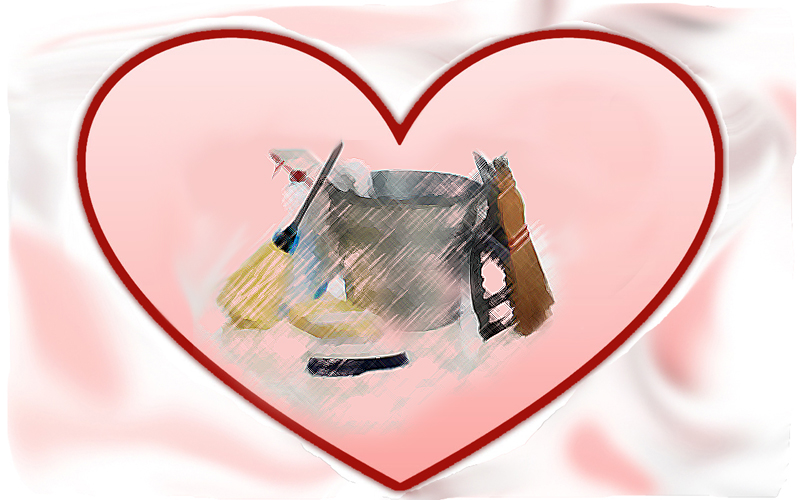 I've been blogging for about a month now – and I never really knew the depth of love involved in being a mom until I began reading "mommy blogs". I'm not a mom and so I still can only peer from the outside in. And like Moses looking at God, I do so now, with my head lowered just a bit  in reverence.
Moms are love with feet.
Here's a confession that may send you running.
…oh boy do I really want to admit this?
OK – deep breath. This tiny corner of the internet is all about love, and love is honest, even if it makes me look bad – so here goes…
I used to think that a SAHM's duty was to run the household 24/7, and when a man helped out, even a smidge, he was being nice – maybe nice enough to deserve a medal.
Please don't run!
I know better now.
And I am going to spread the word.
First, I have, for me, new acronyms.
SAHP – means stay at home person
NSAHP – means non staying at home person
And here's what love dictates, as I see it.
I'm thinking that in the SAHP/NSAHP dynamic, love means that the NSAHP should treat the situation as if he or she were single. Yup – I said single. It might be the only thing that should be carried over from the single life.
Now, I'm going to call my gender out – and risk my man card. I hope all of you know the peril in which I am placing myself. The fact is that in Rae's position her tables were turned – but in general it's men that need to hear this.
Unless he hires a full time maid, a single man, when he gets home, has dishes to do, and cleaning, and laundry, and other such duties. Men in their college years, and maybe a few after, often neglect these things until laundry starts crawling about aimlessly.
We really do think that if a shirt passes the "sniff the underarm" test – it's good to go for at least one more day. And then, maybe one more, if we turn it inside out.
The thing is, that single men, with regularity, came home from work – and do housework. There really is  no reason, once they become married, that this should change. It generally does – but this is NOT Love.
Love does housework
and
not
just
sometimes.
This is the way I see it, it's this simple. When the individual workdays of both hubs and brides are through – meaning the NSAHP comes home, the teamwork should begin. The Bible says that man and wife are to be "suitable counterparts" – complimenting pieces of the whole.
When both halves are together – teamwork should be the thing.
And if teamwork is the thing, then what needs doing, gets done in half the time.
And, when what needs doing, gets done in half the time…
…there can be more family, and husband/bride time.
Rae asked her husband what a person should say to the one not pitching in. He said "nag". "Nag" is often "man-speak" for a woman telling a man the unvarnished truth. I suspect he was either kidding, being playful, or using it in the way I just explained.
It's not nagging because it is actually unloving to say nothing when something needs to be said. Acting in love always involves risk, and not acting when action is called for, is not love.
The Big Finish
A SAHP is working more than full time.
A NSAHP  is likely working more than full time.
So seen through the eyes of love,
when the two pieces are together
the workloads of neither should stop.
But each workload should be eased,
as the two become one,
and housework is done
and I didn't mean for that to rhyme.
In God's love.