Life is up, and down, and level, and rocky, and serene. To just see it all through eyes of love…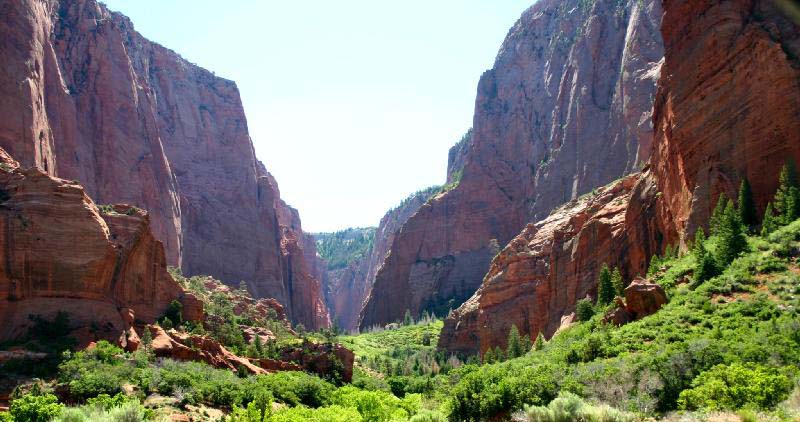 This is part two of what I learned about discerning God's will
while on a hike
in a canyon.
Part one is here. If you missed it, you'll like it. Then you can catch up on the hike.
As I moved along I noticed the powdery pink sand of the canyon path beneath my feet.  I had never seen pink sand before. I couldn't take my eyes off of it. It was so enthralled by it that I barely noticed that the path was changing.
It had been fairly flat until now. But suddenly came a sharp incline. The pace slowed way down. Then the hill dropped precipitously – quick, short, choppy steps – and my backpack wanting to lead the way instead of following.
Then it suddenly leveled off again.
I was so engrossed in the sand that although I felt the incline, and slowed down – and sensed the dramatic drop, like a roller coaster, I didn't really pay attention.
Lesson number two had arrived.
The path I am on can be expected to be alternately uphill, downhill, or level. It's the roller coaster of life. In a world broken by sin it's sometimes up, sometimes down, and sometimes even.
I know that sounds simple.
But if it's so simple, why is it that the steep, exacting, and strenuous parts of my path always catch me off guard? And those sudden drop offs, they're perilous too. If I'm not paying attention during one of those, the tumble can be violent.
What is my pink sand?
What is that which is sweet,
and attractive
but takes my eye off the prize?
Pink sand isn't bad, in and of itself,
but the amount of attention paid to it obviously has to be in balance
or I'm off balance.
Noted.
Moving on.
The thing is that I just have to stay within the canyon walls and keep moving, no matter what the grade of the hill. It's harder walking uphill, sometimes a little dangerous walking down, and all too easy to get lulled into complacency plodding along on the plateaus.
After a while the path led into a tranquil and serene, dry marsh area. The sunlight feathered through the trees in delicate sunbeams. When I was little I thought the sunbeams that sometimes filtered through and around clouds was God. Now, a few years later, these canyon sunbeams just made me smile.
I lingered there a while to soak up the fairy tale like beauty and peace. I guess there are times in life when we aren't supposed to be taking giant strides forward in any direction.  Not every moment has to be driven by purpose.
Like the sunlight sifting through the trees,
life is sprinkled
with moments of rest
and peace.
They never seem to last long enough.
So I  need to relish them
and thank God for them
before moving on.
Then I need to tuck the occasions away in my  memory so I can recall, when darkness falls, what God showed me when things were bright.
"Hey," I thought, "That's lesson number three."
And there are more. I loved this walk through the living classroom of God. He had more to show me – if only I would keep looking.
If … only … I …  keep … looking.
Please come back tomorrow.  There's so much more to see.
In God's love.