At the end of the hike, the 500 foot tall canyon walls would meet.
I was hoping to get some sort of an answer by then.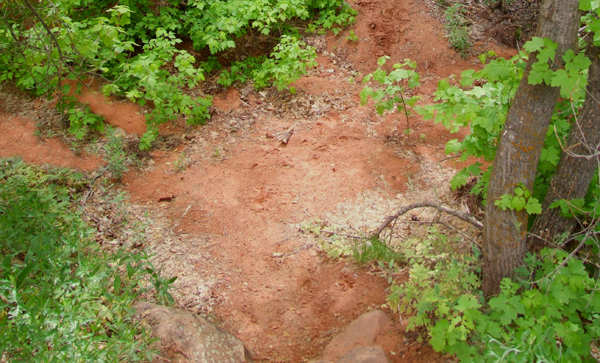 We're continuing along on a hike. I've been taught much already in this Utah Canyon:
To know there's up, down, level, pink sand, and peace.
And so the hike continues.
Up until this point the path beneath my feet was very well defined.  It's easy to choose when decisions place us either well within the canyon walls or way outside of them – and the path is easy to see. But I was about to discover that even safely within the canyon walls things aren't always crystal clear.
When I decided to leave the charming little marsh area, I noticed that the once obvious path I had been traveling on, didn't continue. Instead of one path, there were a multitude. (it's that picture up top)
Ruh Roh.
What do I  do when I have no single best path, but instead, many seemingly comparable ones – all of them within the canyon walls?
After grumbling (a time honored response) I took out the canyon map I was provided with earlier.  Remember, the map I didn't care for so much?
Immediately I was struck with the obvious thought that I have a map. We have a map. We have guidebook – an owner's manual. It's the primary source of answers for the difficult questions.
So out came the canyon map. The completely inane lovely instructions read, "The path eventually heads to the south wall of the canyon and follows a sandy wash until a dry waterfall blocks any further travel".
"Well, that certainly clears things up!"
In looking for an answer I found more questions. How soon was "eventually"? Which path headed south? Which way was south anyway? What's a sandy wash? And how am I going to get to the end of the canyon with a dry waterfall blocking any further travel?
It hit me. That guidebook I just talked about? I often look to it for clear-cut marching orders, when the pages are much more likely to yield only general principles. I grumble.
But what I now saw as clearly as the paths surrounding me was that God has graciously given us freedom of choice within clearly defined limits. We have lots of different paths to follow, majestic walls to protect us, and quality directions to study.
Breezing in was lesson number four. If all my options are within the canyon walls I need only to apply the general Scriptural guidelines, decide prudently, move forward without timidity, rely on God to cover my back, and I will arrive at the end of the canyon safely.
I may be delayed. I might even get hurt if I choose wrongly (or rightly). But within the canyon walls there is ultimate protection.
So, I followed the general directions.  I evaluated the paths and chose one that seemed to be going south.  In just a few minutes I was touching that afore mentioned south wall. "Oh!" I said to myself, "So that's a sandy wash."
Interestingly enough, looking back, I think most of the paths would have led there.  Much sooner than I would have thought possible I was at end of the canyon.
I was able to touch each stunning canyon wall at the same time – one hand on that "south" wall and the other on the north. Then I looked up and discovered that the dry waterfall that "blocked any further travel" was indeed, right here. The dry waterfall was the end of the canyon itself – my goal all along. Who'd have thunk?
So all the lessons got wrapped up with a final bow. A month long cross country trip – then a three-hour hike – yielded my answer.
Within God's moral will,
and in the freedom of choice provided there,
motion forward,
without timidity,
but with power, love, and a sound mind (2 Tim 1:7)
will get me where God wants me.
This is truth,
regardless of my human mistakes
and the broken world within which we live (Rom 8:28).
All bets are off should I leave the canyon – but that's another story.
In God's love.