The first thing they wanted to know was. "Where's the kitty?!"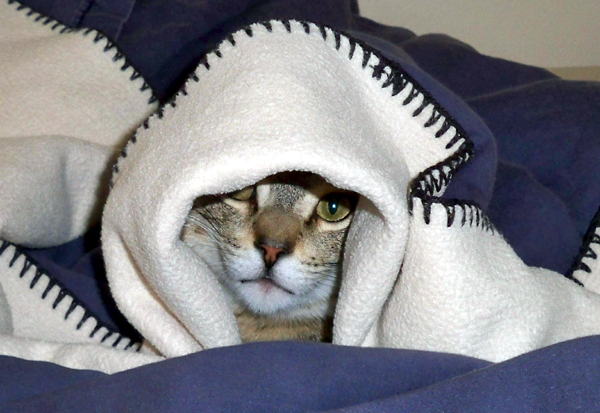 Laska the love kitty has lived with me for a few months. He was a rescue kitty.
And, for those of  you who don't know, he sometimes writes guest posts like this one and this one.
So,  for the first month he was on the streets, with his mom and his sister. Then he was snatched up by the authorities and moved to one of those animal shelters, the kind that keeps them for a while – then – well – disposes of them. At three months old he was granted a reprieve as an independent kitty shelter took him in – to live with 25 other cats.
He was safe from being – disposed of – but had to make weekly trips to the PetCo where he was poked and prodded, and on display. This took him to his 6 month birthday. When I saw him he was in his cage trying to sleep, but too nerve racked to close his eyes. And so began my history with Laska the love kitty. Laska, by the way, is Czech for "love".
The girls smelled like outside and were in bright winter coats. They also were not using their inside voices. They have a dog too – and dog smells make love kitties a tad bit edgy. And they looked just like the scores of kids for whom he was dragged out of his cage, and held, and poked, and prodded, and passed around, and then smushed back behind bars. So when the two nieces come rushing in excitedly, scampering everywhere seeking the kitty, he found his most familiar place of refuge – under my bed.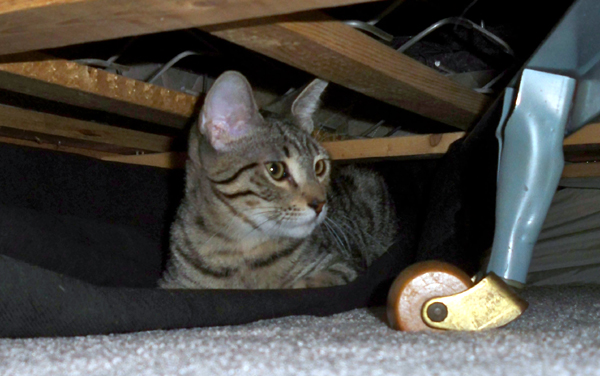 I decided the nieces should be rewarded and Laska the love kitty could learn that new people didn't mean he had to do jail time – or be examined – or leave his home. He just had to visit and learn to be social.
We lured him out with the feather toy.  It was an unfair match. The feathers hypnotize him.
Then we sat on the floor. He wanted for all the world to escape at the earliest opportunity. Two girls wanting to get oh so close and one kitty that wanted to be oh so far, far away. The girls had 67 hands. He had only 4 – but despite that, there would be no holding of this nervous kitty. The kitty has claws. Sharp claws.
I know this because the only way the kitty was staying still for this presentation was to plant said claws, deeply, and repeatedly, into my arms, and legs, and stomach. He didn't mean for it to hurt, he was just getting ready to dash – and until he got the chance, he was also hanging on to what he was sure of.
The girls intentions were good.
But, all the stuff that they would love to have centered on them: the noise, the attention, the chatter, the "squeeeees" – only evoked terror in the love kitty. And those claw wounds? I quietly suffered them all as I held him there for them to pet.
I'm sure that Laska is still not quite sure that he gets to stay with me. Stretching boundaries, being involved, it will take some time but I'll lovingly guide him.
I don't know where to pin down the love in this one.
Is this love about how God who holds us, for our own good, as our claws wound him?
Is it that even good intentioned exuberance can be misinterpreted?
Is it that love knows the fine line between excitement and panic?
Is it in how we need to be open to new things, how we need to stretch. and not worry so much about change?
I think I'll just leave this one in the land of multi-categorical love. And sum it up with
Love sees all the different sides before dashing or digging in
In God's love.