She was caught.
She was dragged,
little doubt, very violently.
She must have resisted,
pleaded innocence,
begged for mercy…
but there would be none.
She would have been bruised, and bleeding, and her body barely covered,  by the time they got to the temple area.
I can see them throwing  her down like so much garbage – expecting that Our Lord would be repulsed by her. And they didn't have justice on their minds, only the killing of a woman to gain a victory over this uneducated "Rabbi" who was not part of their club.
There must have been some look of Our Lord, some action, something not written in the Gospel of John (8:1-11). Something  must have told them he didn't see garbage in front of him at all.
So they knew they would have to fight for their vendetta.
There would have been a crowd of men, with only a few Pharisees and Scribes leading the way.  I can see one shouting at Our Lord, "Don't you know the Law?!  You, a teacher of the people?  This woman has transgressed; she must be condemned under the Law!"
But no words from Our Lord. Did he shake his head? Eat a fig? We don't know. But we know he wasn't quick to respond.
The shouting would escalate, "This is the way we live, the way our forefathers did, this is the covenant.  It is our way!  The Law has been violated, broken, the penalty must be paid, according to the Law."
I see a silent Jesus writing in the sand with his finger.
But they came for a response. They came to set him up. A silent Jesus of Nazareth would not serve them well. So I see another leader with a jagged stone in his hand. He desperately continues the argument. Frothing at the mouth he would shout, "Don't we have the right to stone this woman?"
Silence.
"She has sinned, committed adultery!"
More writing in the sand.
Maybe now they got closer into him – circled him, like hyenas. They needed a heated confrontation. But they weren't getting their way.
"She is nothing but a harlot, a sinning harlot! She deserves this penalty.  It is our right, our duty, she must be stoned — now!"
I see more writing in the sand, no lifting of the head now, just scribbling in the sand. What was he doing? Why wasn't he listening?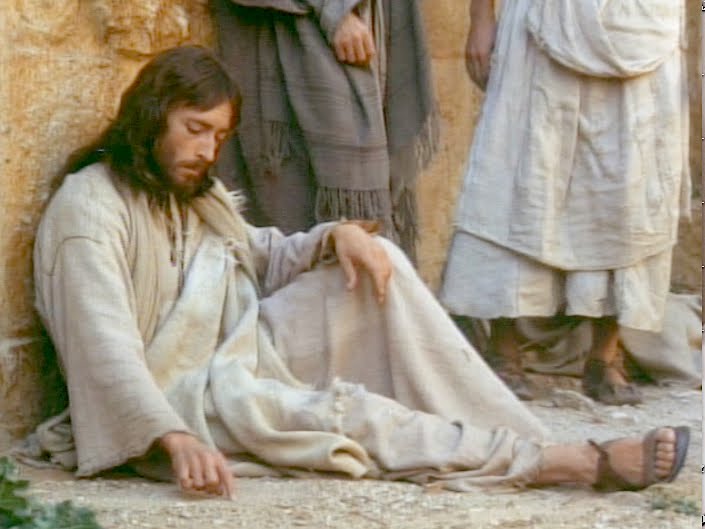 So maybe another approach…
He was silent, so maybe they'd be too. They waited for the wrong words to come from his mouth, waiting to catch Him in error.  They had set the trap. It had to work. I can see pride in the expected undoing of the street preacher – and some worry because he didn't seem rattled.
Their eyes would be fixed on him, doodling in the sand. With their gaze they'd be saying in effect, "Well Rabbi, what now?  Have you an answer for this one? — Well?"
Our Lord, always calm under fire, would answer — quietly.  There would have been too much shouting already. There would be no more rage unleashed around this wounded, bruised, bleeding, and used, woman.
Even their silence would go unanswered.
So they began a new round of argument.
Which was ended before it started, as Our Lord rose up.
And maybe what he had scribbled was revealed, at least to the leaders. Church tradition suggests that it was a list, names of the leaders, and sins they had committed. Their eyes were fixed on him, so they would have been able to read the scribbling.
"Let the man among you who has no sin be the first to cast a stone at her".
Rocks began dropping. Maybe the first few were aimed at the scribbling in the sand. That needed to be erased – and quickly.
They left, "…drifted away one by one, beginning with the elders…"
Of course the "elders" left first. I would have skidaddled too – maybe dragging my feet over the sand to make sure the scribbling was erased.
"This left Him alone with the woman, who continued to stand there before Him."
Part two is the part I really heart. Please come back next Wednesday as we link with Ann again for…