Naming a year is the easy part.
This is my year of connecting.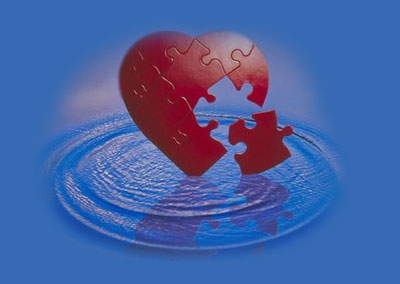 The year that the "one",
becomes one of the "one anothers".
Connecting
I have to follow through,
and go about doing it.
A daily practice

A willful direction
It doesn't matter that it's scary. It doesn't matter that it might hurt. It doesn't matter if I've already been hurt. It doesn't matter that I don't know how. It doesn't matter that it would be easier to just pretend I never named this year. It doesn't matter that I'd rather not try,
because it's safe being just the "one"
and the "one anothers" ?
They might not want me to be part of  the puzzle.
Still, love connects,
so I will connect,
because I really heart love.
And is there ever a better place to start than right now, right here?
At Ann's blog over 90 Christians linked and chose their words for the new year.
I read every one. I didn't skim. I didn't rush. I read all the words lined up like stripes on a flag. I wanted to connect through these words with the people. I wanted to feel what was behind both.
So I read,
and I read,
and I read.
Astounding people, thoughtfully, prayerfully choosing a name for a year.
I prayed for each and every one. To realize this year, what they have intended.
I have prayed this for you too. You who read me. You have been pieces to my puzzle. I'm so thankful for you.
And God has helped as well. As many of you know, he's given me this new…
this …
new …
… thing.
I have felt, truly felt the pain I've seen. I've really shared in sorrow. And it's hurt – deeply. I haven't enjoyed this empathy. It's made me sad, and wrenched my heart a little. To feel someone elses's pain? That can be agony. And it's new.
But this empathy might also have a flip side, a happier side. Right? I am asking here, so please, share. I'm not sure yet, I'm just discovering.
I know it sounds silly, I'm not a young guy. I should already know this,
but it's true,
it's new,
and it's deep.
So I need to find out. Will this connecting show me, that the same heart that can feel the pain of someone else, can also share the joy too? That would be nice.
If only sorrow was never present without someone to care.
If only hope and joy were never alone – but with someone to share.

That would be nice too.
So the year has already started. This unpredictable one of connecting. I have no idea what to expect. But I know most of you do.
Here goes catch up mode as I begin practicing the habit of connecting.
Ignatius of Antioch, around the year 80 AD, wrote, "It is dangerous to imagine that one could offer God suitable service on one's own."
He knew we needed connection.
I know this now too.
But the thing that's most scary is…

…what if it's just as dangerous connecting?
In God's Love