Love is all stretchy and covers everything like a big warm Snuggie.
But something is always yanking at the Love Snuggie.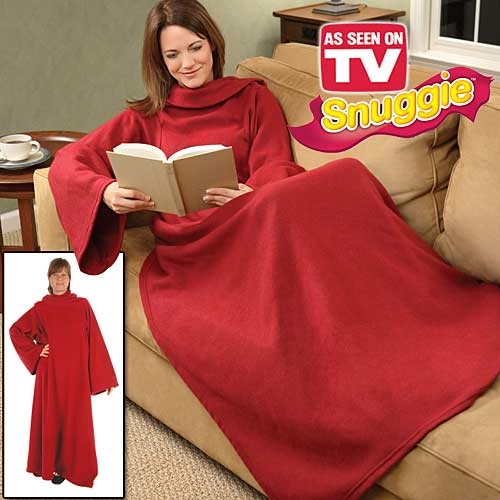 That is one of the reasons why it's impossible to love perfectly – every day. It's hard enough to keep intentionally loving, by action. It's harder when the Snuggie keeps getting tugged on:
from below,
from the side,
from the top
and even from within.
How do we keep loving with Snuggie tuggers hard at work?
Is it as simple as asking for help?
God sends help all the time – and we just don't see it. He's really that active:
intertwined with the lives of his own, on every corner of the globe
all at the same time,
and spins the universe too,
and doesn't break a sweat.
It's a daunting task to love, but love comes with it's own 24/7 help desk – manned by speakers of every language – but most fluent in that of the heart.
So do not fear, for I am with you; do not be dismayed, for I am your God. I will strengthen you and help you; I will uphold you with my righteous right hand. (Isaiah 41:10)
Love is about the doing of what God always does. But the trying can get very trying. Sometimes when too many things tug at the edges of the Snuggie, resolve scampers off like a frightened squirrel. There are so many Snuggie tuggers, and they don't even have to take numbers or line up.
But if God is God,
then we're never alone in the battle.
And the good news?
God is God.
And God is Love.
And Love sends help when the Snuggie gets tugged.
If we can swim – he lets us swim – all on our own. But even Olympic swimmers run out of gas. When we start to sink we grab for floating stuff. God hates to watch us flail around in desperation. He really wants to reach down and either pull us out or put floaties on our arms.
So this is my plan to love, this day…
It's one of the easy loves. It doesn't require anything except letting someone else do all the work.
It'll be good. Really – it will.
If you join in with this plan today, there will be busy angels scooting all over, helping out. I think God hearts when the angels are busy – busy helping his children to love as he loves.
Three times today, pray for God to protect you from forces that will try to tear you down. Love doesn't weaken the spirit or otherwise discourage us when we're dejected, demoralized, or downcast – and God is love. If we ask he will help.
The timetable is flex. But I'm thinkin' the first prayer should happen
right
about
now.
Did you just pray?
Ok, then never mind – finish reading first.
Then if you are so inclined, leave comment down below
and then…
then…
pray.
Then two more times later.
More if you want – there's no limit on S.O.S.'s to heaven.
And I promise to be praying today, at the top of every single hour, for all of you kind enough to read these words.
And for me too,
I'll pray for me…
too.
But I won't forget you.
In God's Love