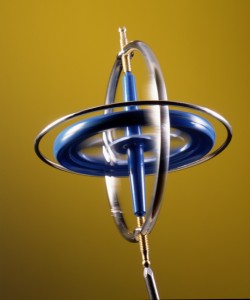 That thing over there in the picture? I had one when I was a kid. It came in a little square box.
All it did was spin – but it was magic. If I nudged it a little – to get it to spin at a different tilt – it nudged right back.
There was something  mystical inside, that kept it spinning on its axis undeterred.
I liked it because it seemed determined, like the little train who thought he could.
But the magic only worked when it was spinning. When it wasn't, it was just a fun thing to throw at my brother.
It turns out that it really wasn't magic.
If you take any gyroscope and start it spinning – and apply a bit of force, trying to tip it over, you meet an equal amount of force opposing your effort.
Now how can that not be magic?
Here comes the science-y part. Close your eyes if you want to. But keep reading.
Let's say I nudge the gyroscope a little. The thing absorbs the force but it continues to spin, So that spot that I nudged? It spins around the axis too – and it carries that force with it. It carries it to the opposite side, at which point the force of the nudge, which originally went one way,  now pushes back the other way.
Then, as it continues to spin,
that force from the original nudge keeps changing places,
and the force keeps pushing,
and then it's on the other side,
and it keep pushing there too,
and all the pushes,
because it's a circle,
end up pushing against each other,
and cancel each other out.
Here's a nice science-y diagram: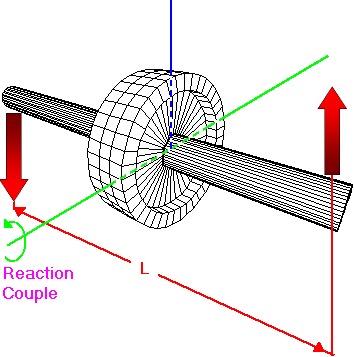 It's not magic. It's just physics.
But it's still kind of magical.
After all, who made the laws of physics?
I liked it as a kid because of the mystery. I like it now because it reminds me of the mystery of me. When I'm on target with Our Lord I spin really nicely. When he's my axis I spin true.
Love spins true
around the only true axis
The trick is to keep spinning around that axis.
It's like we're human gyroscopes. We spin our lives and every day there are forces trying to tip us over. And we would tip right over if we stopped spinning around the axis.
And if we have enough power to keep spinning, God lets us get it done. And we generate push back, to the push of the forces – and we spin undeterred.
And when we don't have enough power?
He who has unlimited resources, can keep us spinning.
This is why pure love has an innate sense of purpose, which resists being thrown off course.
And today, as one of God's gyroscopes, I need to ask these questions:
Where's my axis?
What's tipping me today?
What can I do to  keep spinning and thus counter those tipping forces?
Do I have access to power beyond myself to keep me spinning?
Do I need to gain access to that power?
If so, should I wait a while to ask for it – or will right now do?
In God's Love.