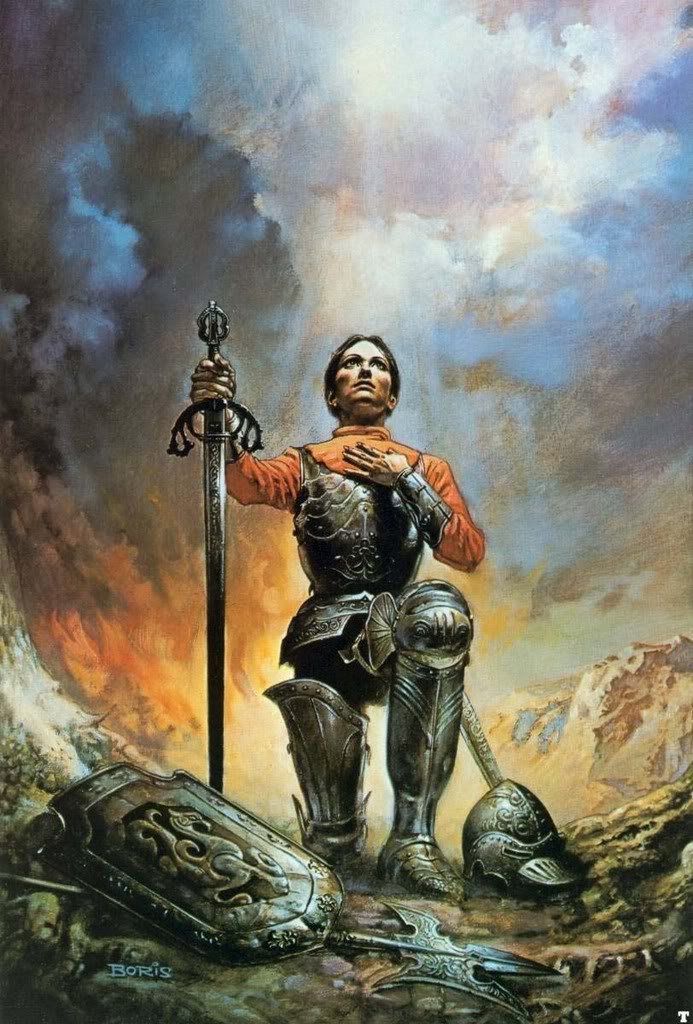 It's a letter
from Joan of Arc
a little fiction
on why she believed love is chaste…
Part one is here.
…I knew what I wanted.
I knew what I wanted to avoid.
I set the rules for my whole army.
Nobody, including myself, would stray from the course.
And let me take a second to clear up a confusion. You may have heard that my name is Joan – Joan of Arc.
"Non. Il n'est pas vrais!"
When I was born my parents named me Jeannette. When I was a child I didn't mind it. But it's the name of a little girl. When I began God's mission to save my country I dropped my baby name, and chose to be called Jeanne.
In Italy I'm called Giovanna – not bad. The Germans call me Johanna – a little hard in their German way, but nice too. But the English, my enemy, when not trying to kill me, or referring to me as "witch" or "harlot" – they called me Joan.
I hate the name  Joan.
My name is Jeanne – pronounced like "one" but with a soft French "J" and a lingering, and also French, "n". Please don't call me by that other name. Keep in mind that when I heard the name Joan, I usually turned hard – with sword in hand.
Now where was I?
My Heroes.
Everybody needs heroes, people to admire, look up to.
Mine?
Let's start with the Mother of Our Lord, our sweet Mary. So different from everyone, so much like us all. She had little of what the world offered. But she didn't want what the world offered. She was rich anyway. No?
I know when you think of me you think armor and steel. But there is something you don't know.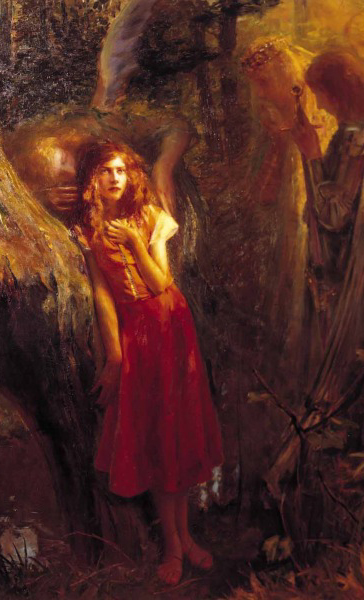 I grew up, not in armor, but in my one, my beloved. simple. red. dress.
I've seen the most elegant gowns of France floating gracefully in a Royal ballroom. For a while I wanted them all – and the rings, and the necklaces, and the perfume, and the hair, and the shoes. For a short time in my life I actually had them all. But in the end I would have traded all of it for one more day in the fields of Domremy in my ratty old red dress.
Simple is better.
Our Blessed Virgin knew this much better than me.
Her papa was never able to afford any more than mine.
But who needs all the refinements?
We just need to be refined.
What was good enough for our Mary was good enough for me.
I wonder if the other girls mocked her because she was so 'holy'? But she loved God – and I love him too. They may have gathered together on the side, and whispered gossip, or spoke just loud enough to be heard – and to hurt. But Our Blessed Virgin talked only of Our Lord. When they compared themselves with others she only compared herself against the perfection of God.
I wonder if they chided her just because she wasn't doing what they were. It must have hurt as much as it always hurt me. But she didn't betray God by taking another road before she had a chance to take the divinely appointed one. I had a divine appointment too and I couldn't be persuaded to take another road before my time.
She remained chaste.
She set aside her dreams to fulfill God's plan.
She is the best woman of us all.
I love her.
To be like her in this one small way?
This is a joy to me…
——–
Please come back tomorrow for part three.
In God's Love.