There is only one good reason why a never married guy should write on the subject of marriage.
Ann Voskamp said so.
On Wednesdays I link with Ann and many others…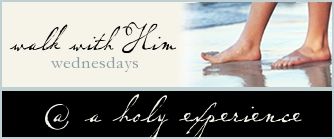 Ann said this:
For the Next Three Weeks, leading up to Valentine's Day: The Practice of Marriage Might we explore the practice of marriage? We look forward to your thoughts, stories, ideas….
Having never been married I was going to opt out. My opinions of marriage are all theoretical. But I do have this Seminary degree, I heart marriage, and I heart the Bible – and the Bible isn't theory, it is not me, it's what God has to say – so here we go…
Isn't the best place always to start with the words of Our Lord?
Mark 10:6, "But from the beginning of creation "God made them male and female"
a fit,
a match,
and a set belonging together.
Adam was lonely, he needed a partner. (GEN 2:18) I get this, I still long for a bride to cherish.
So God made two – so they could be made one.
and a divine union takes place – husband, bride, God.
Ecclesiastes 4:9-12 says:
Two are better than one…If the one falls, the other will lift his companion.  Woe to the solitary man!  For if he should fall he has no one to lift him up.  So if two sleep together they keep each other warm.  How can one alone keep warm?  Where a lone person may be overcome, two together can resist.  A three-ply cord is not easily broken.
Husband, bride, God.
Genesis 2:18 speaks of a "help-mate". It's two words in the Hebrew.
The first, means "helper".
Someone to make life better.
Someone to aid in every effort.
Ecclesiastes 36:24, "He who acquires a wife gets his best possession, a helper fit for him and a pillar of support".
I'd love a bride to lift up, and be lifted up by.
To warm, and be warmed by.
To support and help – and be helped by.
The second word is means "opposite him".
It means that husband and bride should be counterparts:
Corresponding closely,
resembling one another,
completing and complimenting.
It's a beautiful picture of marriage. No? Where each one lifts, warms, supports, helps, resembles, compliments and completes the other?
And then what was one, becomes two, united by a third, and maybe, maybe more.
Gen 2:24 "…a man leaves his father and mother…" (v24a).
"Family" changes.
Love,
devotion,
respect,
closeness,
all become directed to a new immediate family.  Ties to the "old" family remain, but primary devotion is transferred to the "new".
and a man? he now "…clings to his wife." (V24).
If I marry, my only female best friend is to me my bride.
There is so much more the Bible has to say about marriage. Thank you, Ann, for causing me to explore it all. My heart is already thumping. So much so, that tomorrow I'm going to continue. I'm not going to wait for next Wednesday. So if you are here from Ann's please come back tomorrow for part two…
oh and everyone else too please.
And everyone forgive me for not reading you this week. I'm at Blissdom, learning how to do this better. It's for me, I'll be honest, but I heart you guys – so it's for you too.
In God's love