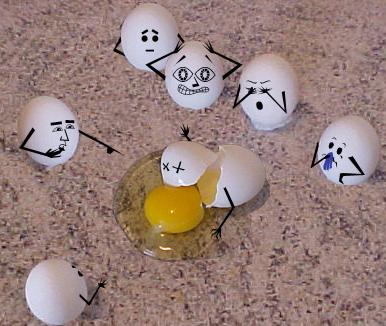 When I last left you my emotions were being cracked open and beaten like a Sunday morning egg.
Yeah
Kinda like that  
⇒ ⇒
⇒
In part 2 the voice was winning.
"You are going to fail!"
And the only way to fend off this voice
would be to guarantee success.
Nobody can guarantee success.
Can they?
The short answer is
yes.
I promise to get you to that yes. The answer is that Love can guarantee success. It really can. But to get to the "yes" I have to first take you back – to one of the darkest moments of my life.
Thursday, May 7, 1998
The short story was that I had graduated Seminary, was given tons of light by Our Lord, and had not lived in that light, but shadows instead – not darkness – but shadows.
I was never one for darkness. Even before Our Lord took over my life I never plunged headlong into the seedier side of life, drugs, alcohol, and even my sexual virtue for a non Christian male wasn't so bad.
I've never shared this with anyone.
I had encountered disaster and was facing the abyss. The words are from my journal.
I have been back in the hotel room for about an hour now.  Holding the swell of tears until I returned to the room. When I got there they escaped.
Short of breath,
the tears just escaped.
I entered the room with them streaming down each cheek.
Boy do I understand how sometimes, suicide can be tempting.  There is no way I would take my life but I told God that I was ready to go – a fatal car accident, a fatal (but please quick and painless) disease, a comet striking the planet.
I would be free of this and alive with God, my mom and in peace with no more messing up.  Suicide, no.  But death?  It seems inviting.
I'm empty now. Resigned.  Most of what has been secret will now be lain bare.  At home, it is going to be embarrassing – they will all still love me but I am now going to wear openly and admittedly the label "Failure" – and it won't be taken off any time soon
At church, the place my "out of the box" faith has never fit well with the Southern Baptist box – well I'll fit less well now.
I have disqualified myself from my dream – to be a leader of a church, a pastor.  I have been a very poor steward of money, lacked discernment and wisdom, lied, wandered.

I will ask anyone I can for a job.  I use the word "job" for a specific reason.  It is because the career, the vocation, the calling is now officially on very, very long-term hold – if not utter extinction.

There will be no bride, no dating – I have absolutely nothing to offer and I will not lie about it.
I am still hoping against hope that something will succeed, having already failed so much, so often, so completely!
The prayer still remains, and will until the bitter and cruel end, "Father, if you are willing, take this cup away from me; still, not my will, but yours be done."
Of course I have been tempted to "curse God and die". Not too long ago I heard it loud and clear. But I say now as I did then, "I WILL NOT".  The one bright spot is that being brought to the brink, I have not let go.
No bargaining.  No blaming.
And as I lay here typing, the tears streaming from the eyes and quietly rolling down the cheek, into the ear, and dropping like a waterfall onto the pillow,  I say out loud, "Yes, I've done good, I've affected many, I prevented suicides, yes more than one. I was there to reset my mother's path toward heaven so that she is alive right now and with God.  I may have done some good things.
But
I
Am
Nothing!
People around me seem to benefit from me being there, but I don't have the same effect on myself. And no one has had that effect on me.
*



Now you know a little more why "You are going to fail" is such a tough opponent.
The answer to how this voice is defeated is actually mentioned in my journal from that day.
But it's easy to skip over.
Funny, how I knew this answer all those years ago – yet didn't.
Tomorrow I promise to spell it out.
Light is stronger than darkness.
Love fights the negative voices
and love wins.
In God's love