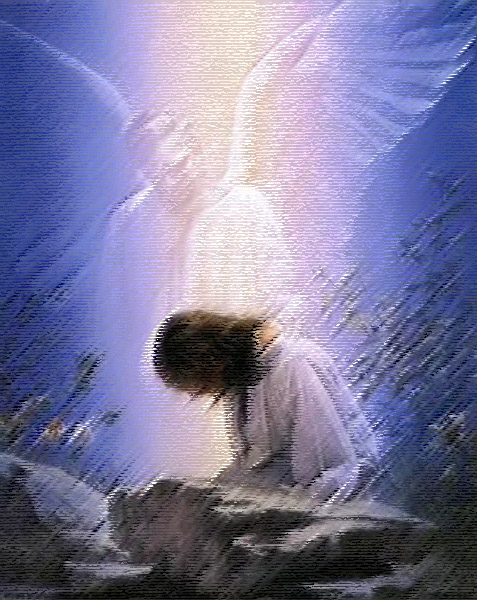 The secret of peace…
It's right in this prayer, of which I'm sure there was much more, but we have this snippet:
"My Father, if it is not possible that this cup pass without my drinking it, your will be done." (MT 26:42)
That night in the Garden, can we say that Our Lord was terrified? Yes.
Can we say he was sad? Yes.
Can we say he was worried?
No.
Because he told us all not to worry and he never once contradicted any of his own teachings. He lived publicly for three years, and in a small village before that. If he lived differently than he taught, his enemies, of which he had many, would have blown the whistle, and Christianity would have died an early death.
But this fate that awaited him, this gruesome, horrible pain, it weighed on him. I think it wasn't so much the physical pain though. It was far more.
This man, who is God, he felt, deeply, the suffering of anyone around him. How much would the weight…
of every sin…
ever committed by every person…
all throughout time…
and the destruction it was borne of…
and the brokenness it left behind…
how deeply would our Jesus have felt this crushing weight?
And how much of it did he know about in this Garden of Gethsemane?
He was so grieved that an angel was sent to him help him through.
This is our Jesus, who suffered the pain on the Cross, and had no angel to help him, yet here in a garden one was dispatched. This shows me how much pain he was feeling.
"Father, if you are willing, take this cup away from me; still, not my will but yours be done."And to strengthen him an angel from heaven appeared to him. He was in such agony and he prayed so fervently that his sweat became like drops of blood falling on the ground." (Luke 22:42-44)
And did Our Lord literally sweat drops of blood? Was this a sign of the extent of his stress?
Actually, no.
I think it was the sign of peace taking the place of the agony. Our Jesus had stared into the abyss and prayed, more than once, for his will, but the Father's will above his own.
And now he stood,
prayer complete,
in peace,
and then I think,
blood dripped from his head.
There's a medical term for this, "hematohidrosis." It happens with great stress, as the blood vessels contract around the sweat glands. But it's not the pressure that causes blood to flow through the sweat glands. It's the release of pressure. The dilation of the constricted vessels causes them to rupture, and blood rushes into the sweat glands, producing actual droplets of blood mixed with sweat. Just as Luke reported.
The answer to peace,
was in the prayer,
in the garden,
that one that brought Our Lord from the most intense agony,
into a place of calm.
I think we can all have this,
I know I have,
and there is more.
Please come back,
there's more of the secret to unfold…
In God's love