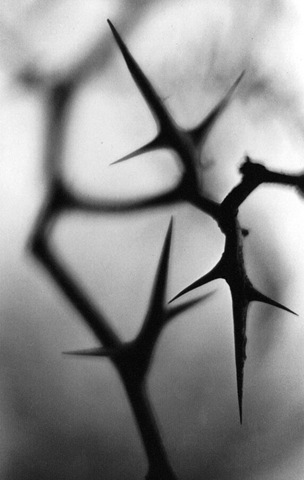 Love says thank you when even the saying of it takes everything you've got.
Here's the sitch. I haven't really slept for 15 years. Some times are less bad, but some times crash hard and leave me unable to think, move, or speak. I write this in a crash.
This is my "thorn".
I am never rested – always on the brink on even the better days. Mostly I can pretend to feel better than I do for short periods of time. But when it crashes like it has these past four days, even thinking is difficult. Thoughts either jumble together or are too far away from each other to bring into focus.
Moving hurts when it's like this – any pain is magnified. Standing is like a tilt-a-whirl. Sitting turns restless. The head pounds. The pains that are magnified multiply. The stomach is hungry – but then turns sour when it's fed.
I yearn to lay down; close my eyes. And the laying down is inviting. I drift in and out of light sleep. It feels restful. But when I try to get up? At first I can't, and then once up I'm reminded that it was only an illusion of sleep. Even when I'm unconscious I'm not really sleeping – and after I rest, I feel just as bad, or worse than I did when I laid down.
But – all's grace – and I'm OK – even thankful
It's with the little bit of me that is here right now that I write this.
It's still hallelujah – it's just the hard hallelujah today…
…as I link with Ann Voskamp and many others for…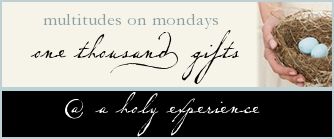 I am grateful…
#96 … that you, Lord, know every part of me, the strong, and the nothing, the faith, and the doubt, the love of others, the love of me – and you don't just know me – you choose to know me – and that's nice – thank you.
#97 … that I am not brought to the ground like this every day – that there are seasons of respite and times where I feel near normal.
#98 … for editing – and that a writer loves to edit. Because even though this may have taken nearly 50 revisions and a whole day to write, with the brain not working very well, the first draft was something no one could have read. Editing is good. I say thank you for editing.
#99 … that there is always room for a miracle.
#100 … for this thorn. I thank you for this thorn. It affects my body but not my soul.
#101 … that this period where lack of sleep destroys me will pass, and the medicine and machines will overrule my brain soon. When? I don't know. For how long? I don't know. But this will pass.
#102 … that when this period passes and the lack of sleep becomes a nuisance, not something that wrecks my mind and body – feeling "not so good" will feel wonderful by comparison. I'll bloom, like a parched desert after a rain.
#103 … that this teaches me humility. I was once arrogant, and by your Grace learned not to be, and now at times like this am forced to be. Humility is never a bad thing – and this makes me humble.
#104 … that it teaches me compassion. Once I looked upon those with constant illness in a different way than I do now. There is authentic empathy, where there used to be only displays of it.
#105 … that you made it all the way down here through all the above whiny-ness. Sorry – and thank you. I promise not to whine tomorrow.
In God's love.