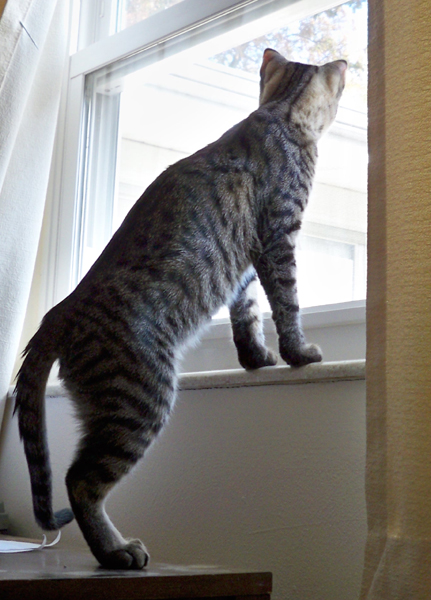 So here stands Laska the Love Kitty. He's a squirrel watcher by trade. But he has the attention span of …
well…
me.
Yesterday there was this adorable squirrel just inches outside the window and he was missing the show. So I decided to help.
I pointed.
Laska immediately looked…
at my finger.
I waggled my finger with urgency – not speaking – and thus frightening said squirrel.
And Laska looked hard…
really really hard…
at my finger.
I decided more help was in order.
I picked him up and positioned his head so he was looking straight at the squirrel. As soon as my hands left his head he looked…
at a tree.
He's the feline version of me. He's curious but scared. He's clever but easily distracted. He's an extroverted introvert. He looks at the pointed finger – and not at what's being pointed out.
Oh boy.
How often I refuse to look at what I should. Then what I shouldn't look at I do. Or if I do look at the right thing, I see only with earthly eyes. So God points and I look, oh so intently…
at his finger.
He takes my little kitty head and positions it just right…
and I look somewhere else.
Or I see what I should – but with my eyes, not his.
I see a cross. God wants me to see eternity.
I see a problem and he wants me to see the possibility.
I see the storm. He wants me to see the rainbow.
I see the material. He wants me to see the spiritual.
For our struggle is not against flesh and blood, but against the rulers, against the authorities, against the powers of this dark world and against the spiritual forces of evil in the heavenly realms. (Eph 6:12)
This is one of those loves I'd love you to play along with me.
So here's the love thing for today.
I started with listing five bad things in my life.
Then I cut the list by three – eliminating the ones that were the least pressing.
One more cut, left the one that was most needing immediate better eyes.
Then I asked,  "How would Our Lord view this?
I just did it – and it was so simple.
But I could already sense my little kitty head being diverted.
Knowing is not the same as seeing, seeing is not the same as doing.
Love is about the doing.
I needed better eyes, and a stronger will, and  I prayed for them.
Because Love sees with better eyes.
It also moves with better feet.
It also looks at the squirrel and not the tree.
Love sees meaning and purpose in things that that world often cannot. Love knows that it really is darkest before the dawn. I started writing this last night – but didn't have it in me to finish.
As I began to finish writing this –  at 5AM – it was pitch black. Now the sky is that pre-dawn robin's egg blue and the limbs of the trees are stark against it. It really was darkest before the dawn.
And I can see better now. I can see where God is pointing. And I'm on task.
I don't have to see everything with better eyes today – just this one thing.
I can do that.
For one day.
I won't look at it with my eyes.
But better eyes.
In God's love.