Because if it's Monday it's time for a wee bit of gratitude…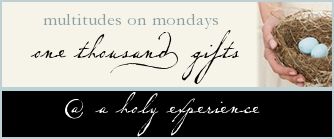 I am grateful…
#106 … for LOVE, not as the world portrays it, but as it really is, defined in three little verses.
#107 … that Love is the message of Our Lord Jesus, all rolled up like a ball of yarn.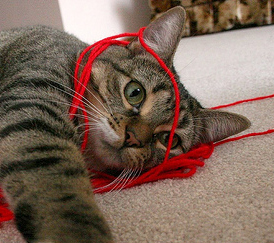 #108 … that the funny thing about balls of yarn is this; If you leave them alone with a playful kitten, when you come back there's yarn everywhere but no ball.
#109 … that Love is just like that. We unroll it little by little and soon we're covered in it and it's all over the place.
#110 … that God. is. like. yarn.
#111 … that as Ann puts it in her book, the world is, "a means of communion with God". So that if I choose to see Our Lord, his footprints are all around me.
#112 … the way Laska the love kitty has finally figured out that if he sticks his paw under the faucet – the water ricochets off and makes a nice water fountain for him to drink from.

#113 … that Our Lord made all of us to love, vertically and horizontally and that the reason we can love at all – is because He first loved us.  (1JN 4:19)
#114 … that everything in this universe is without a choice to love or not to love. Atoms may sing praise but they have no choice, neither planets, nor plants, nor animals, but just us. Only we get to choose to love.
#115 … for the smile that just plants itself on my face as I read and comment on all of the thankful lists. How I don't really notice that it's even there, until my jaw gets a little sore – like it is right now, writing this.
#116 … that I don't much care for spinach, especially when it's cooked and soggy, but I do love me some chocolate chip cookies and milk.
#117 … and that love is like milk and chocolate chip cookies, and "not-love" is like soggy spinach (no disrespect to spinach lovers – just insert your own favorite brand of 'blargh' instead of spinach

#118 … for lids on top of garbage cans – except when they fly down the street like Frisbees on windy days.
#119 … for a temporarily broken planet with glorious things like mountains, and sunsets, and oceans, and snowflakes – all beautiful but not perfect. If what is imperfectly beautiful is so wondrous, then what must the perfect be like?
#120 … that Our Lord seeks out and offers to fix what's broken and make. it. whole.
#121 … that I'm finding out, that the dropping of masks, is better than the pretending.
#122 … that it's the same tear that falls down the cheek when I am alone on a mountaintop, hearing the wind, and feeling God's presence, as when I'm in a pew and singing a hymn with others who believe.
#123 … that God is there – even when I can't "feel" him.
#124 … for hunger, and that my hunger for Our Lord is not like my hunger for things of this earth. Because worldly hunger gets sated, and then soon there's a desire for more, and more isn't always possible. But with God, my hunger gets sated, and when I get hungry again –  there. always. is. more.
In God's love.