Every Wednesday, either on this or Love's twin site, I join Ann Voskamp and many others and post a spiritual practice that can draw us nearer to Our Lord's heart….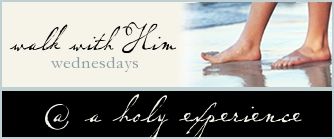 So the last three Wednesdays over on Deep into Scripture I've been all theoretical and theological about time and eternity.
For the next three Wednesdays, as we walk with Him towards Easter, I'm considering this :
The Practice of Letting Go
Because if I have heart brimming with bitterness it has no room for love.
And if I possess an ego full of pride there is no space for humility.
But this week I consider…
that holding onto the past, means I can't grab the present.
I've been thinking a lot about this one already. I've been "tweeting" these thoughts for months. So today I'm just going to share my tweets on the subject. And then ask you guys a question.
This post is kind of like a field of strawberries, just grab the ones you like, and leave the rest where they lay, somebody else might want one of them.
ღ
Negative voices, echoes from the past, only confine, and constrict and obstruct. And newer, better voices, need heeding.
ღ
Our minds are conditioned by the past. The future is a projection of our past. I need to stop worrying so much about projections.
ღ
If I spend most of my time thinking about the past, I'm missing life itself. It's passing me by while I'm elsewhere.
ღ
I need to let go of past dead weight, and focus on what is happening now, and the God with whom I share this moment.
ღ
The past is where I come from, not where I live. And no one is even promised a future. Just now, live in the now, eye on eternity.
ღ
Just be present, sense the time, slow it down. draw in a little positive past, anticipating a brighter future, but being here – now.
ღ
Harness the past, plan for the future, soak up the present.
ღ
I look at Laska the love kitty, he lets go of the past, and he's all about the now, the now is kind of all he cares about.
ღ
Live the now, control what I allow in it, use the past, lay good stones down for the path to the future.
ღ
The words always come so easily– the doing is the challenge.
ღ
Choose what fills the moment. Bring good from the past to the present, and in doing so, form the future.
ღ
If it's from the past and was successful bring it forward and implement it. If it's unsuccessful from the past catalog it, eliminate it.
ღ
I think that trying to be present without a context is like reading Bible verses without context. Remember the past, just don't dwell on it.
ღ
This present moment is always tied to the past and the future. The present is colored by the context surrounding the moment.
ღ
One really good way to be miserable, is to dwell on what was, or could have been, or what might happen. Instead of just being here – now.
ღ
And you know what? Now that I see all these "tweets" together like this, it makes me want to listen to my own words – now.
Do any of these stick out to you?
Because if it's something you think is important, I want to think more about it. That's one of the best things I'm finding out about blogging – the wisdom I get to glean from you guys.
What do you think I need to learn from this, that can help me draw nearer to Our Lord's heart. And walk in his steps better?
If you have a minute, please share…
In God's love.