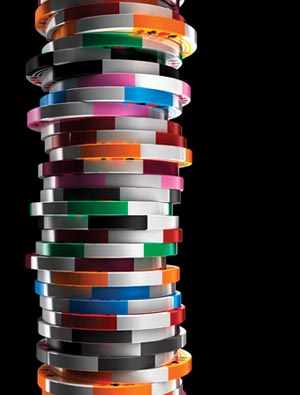 It was about 7 years ago.
The "sleep thing" made it impossible to keep a regular full time job.
I had to find some other way to make enough money to live.
My body was only allowing me a few productive hours at a time – at most.
So any job would have to allow for that. Most jobs don't.
I almost wasn't going to share this – or was going to somehow disguise it as a story. But the masks are off right? I have to be honest with you guys.
I'll just go ahead and blurt it out.
I played poker at a Casino – and it paid the bills.
It fit the requirements. I lived walking distance from a casino. I could play for two hours, go home, maybe come back for two hours later. Sometimes a little longer – sometimes a little less – whatever the body could do.
I don't play anymore.
It's not that I don't enjoy it – because I do.
It's not because I began losing – because I didn't.
Poker really is a game of skill – not luck. In the short term luck plays a part – but in the long run a person with better skills, will always beat the one with fewer skills.
The main reason I stopped?
Love is not poker.
I've not just been about love since I began writing this blog.
I discovered long ago that love was the "thing" of Christianity.
And I realized that almost everything you needed to do to be successful at poker – was the opposite of what Our Lord would do – the opposite of love.
Not all of it – but enough – and even the ways it wasn't "anti" love – it was a twisting of it.
Patience?
It was mainly a useful weapon. I targeted the lack of patience of my opponents – and used it against them.
Kindness?
Poker players aren't kind to each other. Simply put, as a poker player, that stack of chips in front of you, that belongs to you, my aim is to take it from you – and smile.
Jealousy?
What part of, "I covet your money." is not jealous?
Pride?
Was I prideful when I played? I acted humble – but inwardly, if I was playing against you I thought less of you than of myself. I was playing against you because I knew I could beat you. That's pride.
Not rude?
It's pretty rude to reel a person in like a fish. That's why the weaker players were called "fish". And once you landed one, you took them for as much as you could.
Not seeking my own interest?
Don't really have to explain that. Right?
Not angry?
Well here's one that didn't conflict at all. I told you it didn't violate every love.
Doing what was right?
It isn't right to find the weakness of another person, in order to exploit them. Poker isn't about being the best. Competition is about being the best. Poker is about exploiting the weak.

Truth?
You don't win at poker by having the better cards. Because everyone eventually has the same cards. You win by deceit.
Bearing all things?
Another non-violation of love. There are ups and downs and you had to stay level headed.
Hope?
Hope isn't all about me. It's also about instilling hope in others. To win, I had to constantly raise the hopes of others – just to dash them.
Faith?
Ahhhh. Faith. Let's just say if we could see with better eyes, and behold angels and demons – and then look around and see demons holding sway – that's where we shouldn't be. There are very few angels in casinos. The demons? They love it there.
In the end, there was enough love in me to keep me from making as much money as I could have. I would help other players – show them their errors. I would let the fish off the hook sometimes because I felt bad. I would tell someone they'd be better off not throwing in all their chips – and if they didn't believe me – I'd show them my cards.
So I realized…
if love is not good poker…
then poker is not love…
and if I'm not doing love…
I'm not being Christian.
So I couldn't do poker.
So. I. Just. Stopped.
But, since sleep is still just a dream,
I've been trying to find another way to  pay the bills,
a way in line with love,
ever since.
In God's Love