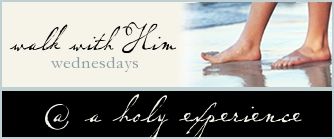 Ann has asked us to "walk with Him" to Easter.
I never imagined I actually would.
This past week has yielded nearly no sleep. I haven't slept normally for 15 years – but sometimes sleep just doesn't even come at all. I wrote of this yesterday – when I was barely hanging on – and today is worse.
But it is magically fitting right in with "walking with Him" toward Easter.
I began writing this in the dark hours just past midnight and it's now approaching dawn.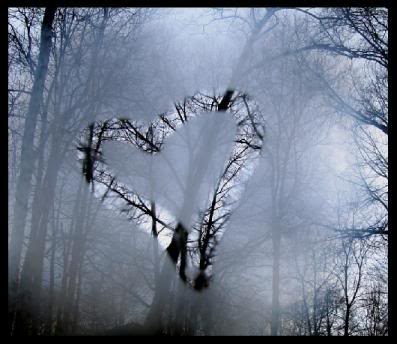 My mind is fuzzy, my thoughts…
evade my  grasp – and everything hurts – every pain is magnified.
And there is nothing I can do to make the sleep happen.
But it's just a thorn. It's just my thorn.
The days right now just bleed into each other. I'm either tired but I can't sleep.  Or I fall unconscious into a sleep that leaves me more tired when I wake up.
This will pass soon – but I don't know when.
But thorns are to teach, to change, to make us more like Our Lord…
and this one is doing something good right now…
strength through the weakness…
Today my mind is not enough to write anything of much worth. My body is just not up to the task either. My emotions are a slave to both of those and they are plunging.  It's all connected – the mind, the body – the heart.
Still, there is something of value in this one nearly seamless day of sleeplessness.
I'm knowing things,
by feeling them,
and I feel,
limited.
And I'm knowing that those last days of the Passion, Our Lord must have felt limited.
I am feeling that I'm not enough. Did Our Lord feel "not enough"?
I feel bad because I can't give you guys something uplifting or deep – because the spirit is willing but the flesh…
Did Our Lord feel a little the same?
But he was 33 and vital and strong. Right?
No. That was before this string of days which must have seemed like seamless day to him.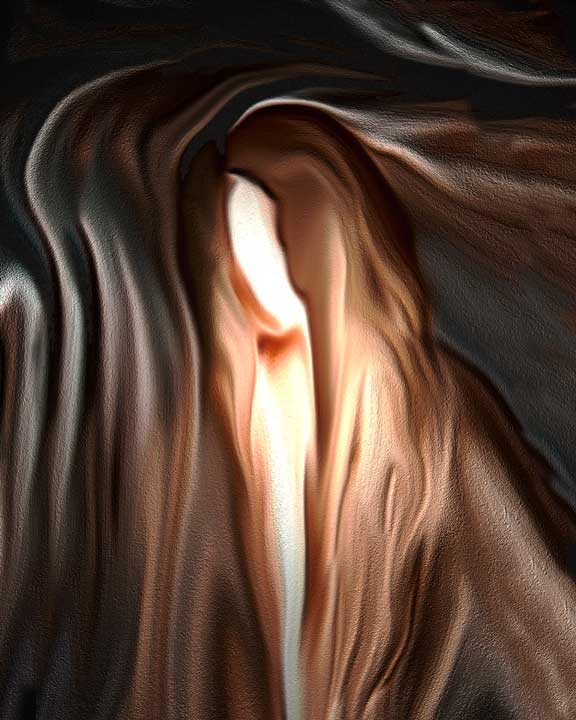 His mind was strong, but before the Cross he had endured so much loss of blood. To lose that much causes chemicals in the brain force hyperventilation – and trigger anxiety. Anxiety was a stranger to Our Lord – and now his body may have forced worry upon him at the time he needed most to be at peace.
In this severely sleep deprived state that I am in right now, I know of this. There is a heavy depression that I have to fight. I know it's not real – but it feels real. Logic and thinking might bring it under control, but with no sleep, and in Our Lord's case, no food, and beating, and blood loss – logic would have been hard to grasp and thinking would have been a mighty challenge. I feel this all now, myself, and I'm not marching to the Cross.
I know…
how hard I'm working right now,
to focus my thoughts.
It's all fog and mist,
and his mist was deeper.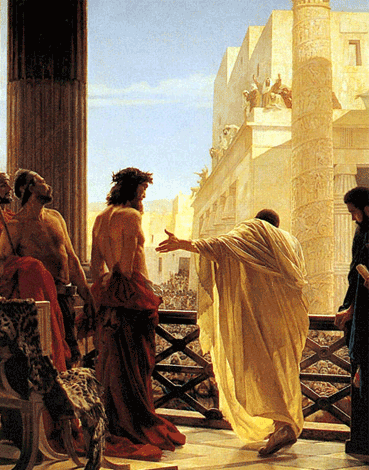 And I'm just struggling to line up words for a post – he had things of eternal impact to say.
And his body was betraying him too.
Was he maybe silent in the trials because he really didn't have it in him to answer every question – so he saved what he had for the big ones – the ones that had to be answered with the perfect words that would echo through millennia?
And his physical strength, by the time of his walk to Calvary, what was left of that? My body is weak right now, it feels like rubber, it doesn't respond the way I want – but I haven't been beaten, lost all that blood. I've eaten and had water – and am not plunging toward death.
Tradition says he fell three times on the way to Calvary. It's embarrassing not to be able to do what you have to do. I know of this. You don't want to admit it. You want it kept secret, pretend everything is fine – and so you do. But you can only pull this off for short periods of time.
And when you let go of the pretense – it crashes down twice as hard – and there is embarrassment.
Did Our Lord, the most humble person who ever lived, feel…
embarrassed?
And all of this before the nails, while he was still able to breath. before pain racked his body uncontrollably – before more blood.
I am walking with him toward Easter, and right now I have a hint of what his footsteps were like.
This could all be just projecting my feelings onto him – or it may be this thorn of mine yielding insight.
All I know right now
is this is how I feel
and I feel it's the way…
He felt.
In God's love