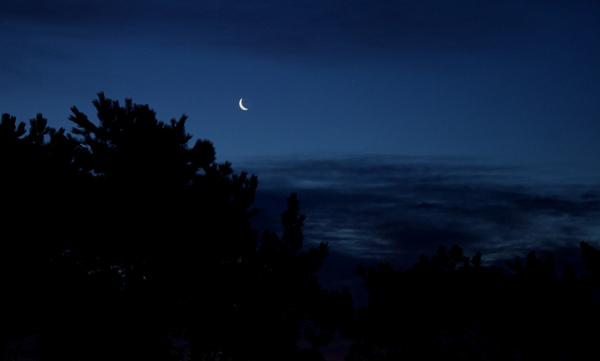 source
I look up and notice that it's near pitch black outside, dawn hasn't even begun to break.
But the moon has risen – a sliver of a crescent in the east.
The moon seems to be staring directly at the spot the sun will rise.
I know you're out there. I know you're struggling. Like the gravity of the moon pulls at the ocean tides I can feel it.
You may feel discouraged. You may be in a place that's not so good, and worry that when the cloud lifts, things might get worse. You might be having trouble taking in the joys of the moment. Maybe worry about things that are not yet, is stealing joy from the "now".
Oh moon…
Sure that Sun will arrive, and you will have to deal with the big bright ball. But if you worry about what's to come, you won't enjoy this present moment where you are the only thing in the morning sky.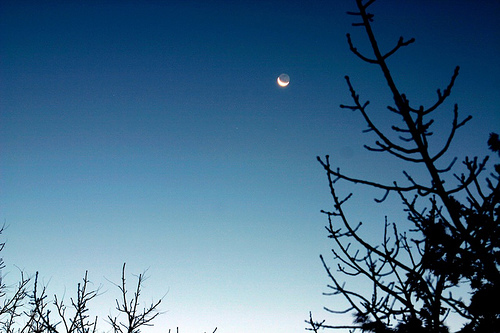 I'm using the word "you" more today than I normally do.
That's because I sense that you deserve attention.
I'm not being preachy and know-it-all-ish. I share the same struggles.
So you…
Are you that moon today?
Are you worrying about that impending sunrise?
Are you worried that you'll disappear? That no one will see you, or know of your pain, or care if you've disappeared? After all there's a whole sky full of stars that are there every day and nobody sees them because of the light.
Are you that moon today? Staring hard into the future, the one that's not yet even on the horizon, and allowing the present moment slip by?
Oh Moon…
The dawn will break. That future will become present. But then what? Just orbit? Just dread the time that the sun will go down and all the brightness will disappear into night again?
The birds don't seem to mind the impending sun. Birds flee from destruction. The birds are staying put. That must mean something.
Oh Moon…
You will have an even more glorious position in the sky an hour from now. You'll be hanging in the daytime blue. The future is arriving, the dawn is breaking, and you are about to have a rare moment.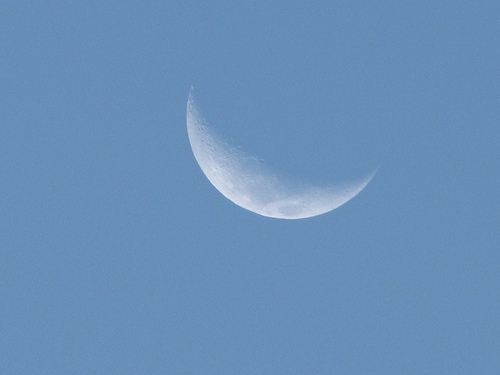 And do you know this – or are you too busy staring?
And you, my friend, you reading this – please know that the One who spins this whole drama into order put that moon there for you. And the Sun? It's there for you – and the birds – and the universe. It's all. there. for. you.
And if you want what He wants above what you want, then nothing – absolutely nothing can challenge your position in the universe, on this planet, in your family, in your marriage, in your world.
There is a whole cosmic order with no choice, but then there is you. Don't fear the night. He's there. Don't fear invisibility. Because you are always the apple of His eye.
"Now" is what exists, the ability to control how quickly the "now" moves – well – we are the only beings in all of creation who possess this magic.
I'll be praying today for you – and since this is Friday – that means – all weekend long.
I heart praying for you. So please know, and feel, that you are being prayed for – and angels are dispatched.
I'll be praying that you'll keep an eye on the future, but not fear it. Our Lord holds that future.
I'll be praying that you'll have the strength to do what needs doing today.
I'll pray for you to be able dominate time, to find something good to focus on in the bad so you can speed through it, and choose to slow, and breathe deeply of the good moments.
I'll be praying that Our Lord will help you choose to feel Him today, more than your fears. A prayer for Him to let you know that you aren't alone in your invisibility, that you are seen by eyes that see everything – and loved – and that you are the very center of his vast universe.
In God's love