This morning Laska the love kitty was all out of sorts.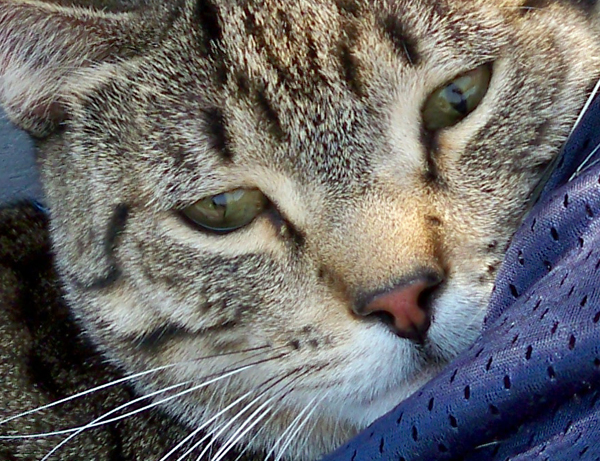 We live in a one bedroom apartment now and he likes getting outside.
He's got a set of "walk" chronicles he's currently working on for you guys.
So, since we're outside where nasty fleas and ticks live, I got some flea stuff.
I bared his skin at the base of his neck, and put a blob where he couldn't lick it off. He was upset, neither liking being pinned down to apply the stuff, nor having it on him.
This morning he was hidden. I opened up the windows so he could hear the birds and watch the dawn. This usually brings out the wild ocelot in him as he races from bedroom window to sliding porch door:
His bottom made of spring
He's bouncy, trouncy, flouncy, pouncy.
fun, fun, fun, fun, fun.

But this pre-dawn he was quiet. He clearly hadn't slept – but wanted to. He wanted to be near me – but was jittery. So I grabbed him and laid him beside me as I wrote this.
And this brings me back to part 4 of mountaintop to valley.
After walking through Lent, contemplating the Cross for the 40 days, I was all filled up – until Easter. Doubt overshadowed me, and energy and positive emotion ebbed all the way out, leaving a dried up tide pool. (that's here and here)
I remembered the story of Elijah and how this happened to him, and got really helpful wisdom from you guys. (here)
I was feeling like Laska's feeling now.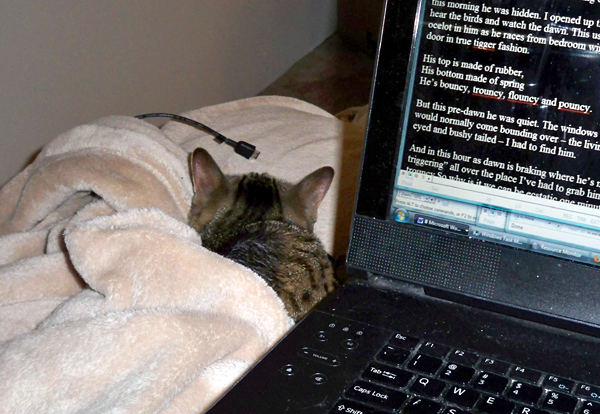 Back then, a "normal" Laska the love kitty did his version of what I have just done with him.
He bounced and trounced over, settled down, and curled up next to me.
With all the heaviness I was feeling, my face in his tummy fur seemed like a perfect solution. So I lay my head down next to him, and nuzzled in warm "love kitty" goodness.
And he put his paw, no claws, like a butterfly lighting on a flower, on. my. nose.
I was still all dreary – but the love kitty helped bring a smile.
Then there was a noise I couldn't hear, but he could.
His paw moved to my cheek and pressed down hard.
And he raised his head over my shoulder and stared intently, so focused, and determined and tough – at nothing.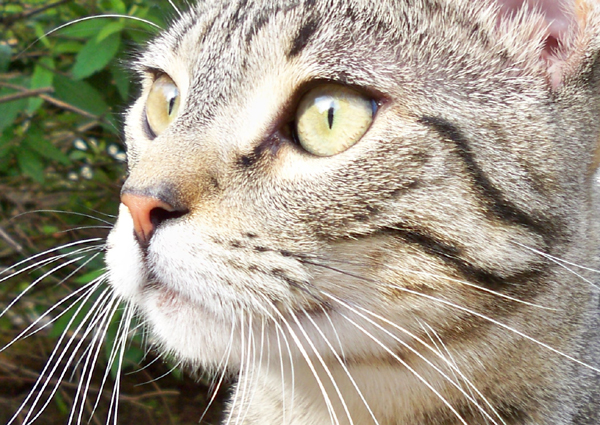 There was nothing there.
I know,
I was the only one besides him in the room.
Rigid and haunched up like he was facing down a dog. Laska glared over my shoulder, keeping one paw on my head, as if to hold it in place, for more than a minute – at nothing.
I remembered my morning prayer when I had chatted with Our Lord about "protect us from the Evil One". I had discussed the existence of the Evil One and his minions – but stopped short of the "protect me" part.
I finished that prayer right then, asking, if there were something I couldn't see or sense, that Laska could – that it be gone.
And suddenly I felt better – can't explain it.
Suddenly Laska did too.
He relaxed and circled and plopped down beside me.
He seemed proud.
I felt calm.
He went to sleep.
Was something there, something that stirred him up?
Was the paw on my face his way of holding my head down and saying "I got this one."?
Was that something that was there – then gone – something oppressive and not from "here"?
"For our struggle is not with flesh and blood but with the principalities, with the powers, with the world rulers of this present darkness, with the evil spirits in the heavens." (EPH 6:12)
Any thoughts?