I'm asking today if the best and worst thing about being a mom is the immense love you have that compels you to take upon yourself the pain or suffering of your babies?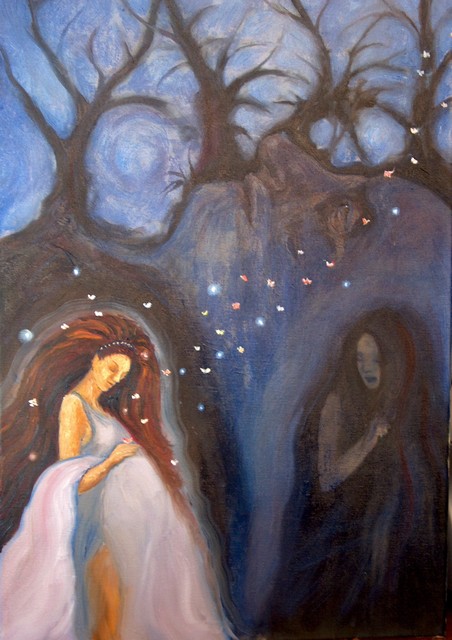 image source
Of course, I'm not a mom,
but when my baby sister,
whom I love without condition,
when my baby sister lost our mom
at the age of 18,
somehow,
somehow,
she became more than just a sister.
She became as much daughter as sister.
Only you moms can answer this question for me.
Because if you tell me it's how you feel, then I can say that I have shared some of what that love is.
And right now it's breaking. my. heart.
that love.
And this too…
From the moment my mom left this earth I knew that my sister was mine to protect.
I am such a nonviolent person. I am a man who has never thrown a single punch. But on occasion I have shocked her with a whirlwind of rage against those who would harm her.
Because nobody is allowed to hurt her.
Is this, too, what you feel?
There were things that needed to be done this weekend. But I didn't do them, or most of them, because I was buried in an avalanche of her grief.
It's not my sadness.
But. it. is.
It's not my sadness.
But it is.
It's not mine.
But her sadness is hovering over me as if it were.
Is this what you moms go through when you have a sick child?
Is this what you go through when your child has a hurt that you can't heal…
So you just have to be there for them,
and support them,
and let them know you love them,
because you can't fix them?
Because it's not your pain,
but it is.
It's not.
But it is.
I thought things would change when I walked her down the aisle and gave her to the man she married. It is now his responsibility to watch over her and protect her and love her.
But now she is experiencing this agony. The birth of her first baby has been sandwiched now between two intense griefs.
And this grief,
I feel it as if it's my own.
I wanted to be there for her strong,
I wanted to be compassionate and caring,
I wanted her to know that I love her,
but I didn't want to feel the weight of the sadness on me.
You moms with older children…
I know some of you have older children…
I know some of your children are married…
do you still feel their pain like this?
Does a mom ever stop feeling the pain of their children as if it's their own pain?
We can learn from books.
We an learn from lectures,
and sermons,
and blog posts.
But we learn best…
when the experience breaches the boundaries of our heart.
No?
She's going through this thing,
and she's going through it today,
and it's not going to go away anytime soon,
but she'll trudge through,
she's been through worse,
but it's going to continue to hurt her,
and so will it  continue to slay me?
Only a mom can answer this question.
And I know how many moms read these words.
Is this one of the costs – and benefits – of Love?