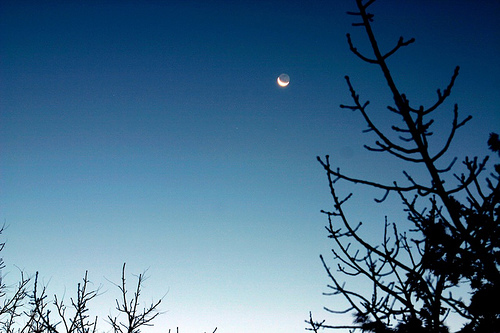 It was just about this time last month that I noticed the moon rising with the sun. It spoke to me. It's before sunrise as I write this, and only part of the moon is paying attention to the sunrise. This time it's speaking to me differently.
The light on the moon is just a reflection of the light from the sun. It's the only part of the moon that we really notice. The part of the moon facing away from the sun gets no light.
I want light in my life.
The part of me that doesn't face You, Lord,
doesn't get light.
It's that simple really.
Facing You I get light, turning from You I don't. One day I'll face you full, always a beautiful full moon, for now I need you to lead me in the way in which I can face you the best.
I don't want to be the turned away moon I see outside my window right now.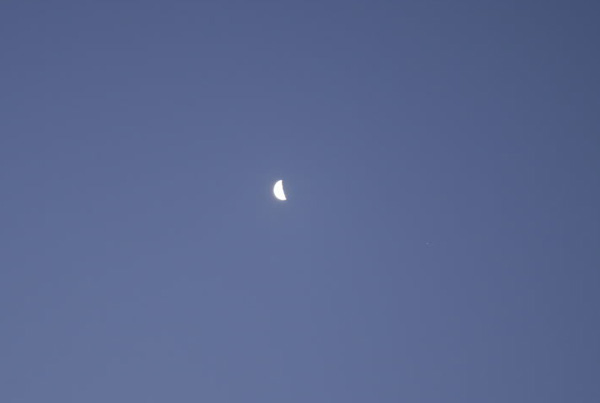 I want to be full.
And easily distracted sheep that I am, I need reminding to turn toward You, my Shepherd.
And that's what this part of the Your prayer is for. It's for talking with You about how I need Your help to keep my face turned toward You, and be lit full – and then asking for that help.
"…And lead us not into temptation."
And so today, before I talk to You of anything else, I talk to You about this.
Father, its only in your light that I can see,
only in your grace that I have freedom,
only in your will that I should travel.
Anything that blocks your light,
imposes on your grace,
directs me away from your will,
is simply put,
evil.
I'm human, and subject to temptations.
They are sent to me daily.
They vary by the moment, by the place, by the circumstance.
Any movement toward them is away from you.
I cannot move away from you.
Father, guide me safely through the snares that are laid out to catch me,
keep me aware of the traps and sins that so easily beset me.
Help me to run from anything that might divert me from you,
or block your light.
Father, by your Grace I have forgiveness,
by Your Word I have direction,
by Your Spirit I have power to resist evil and triumph over sin.
Lord, this day lead me away from temptation,
and when confronted with it,
give me power to turn trial into victory.
By Your grace,
only by Your grace.
Amen.