Love is not quick to anger, but love does get angry.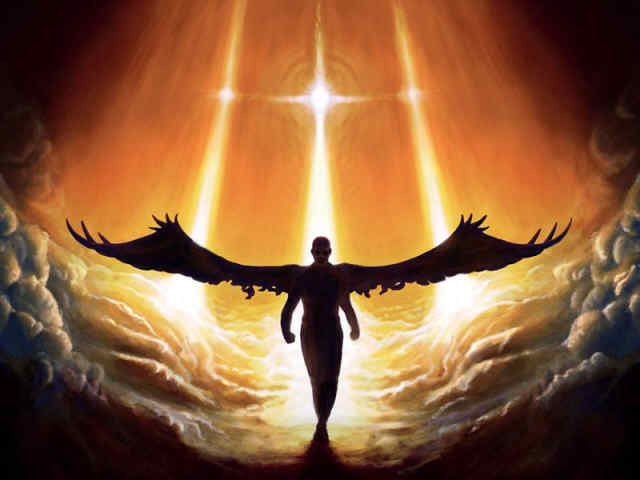 source
One of the things that our Lord got angry at was injustice. When people were being cheated in the part of the Temple that was supposed to be for prayer – that's when tables were overturned.
When he healed a man on the Sabbath and all the religious leaders could think of was how horrible it was that he worked on "the Lord's day" – his eyes burned with anger.
God is love.
Jesus is God.
Love is not quick to anger.
But love does get angry!
Love also "does not rejoice in wrongdoing but rejoices in the truth."
The truth is that these negative voices we hear inside our heads are hostile – and deceitful – and even though sometimes they're wrapped in a thin veneer of truth,
they are lies,
they are wrong.
They. Are. Not. Love.
And it's just fine to be angry at them.
They have to go.
This is a Love War.
And they have to be driven out.

Now!
Unchecked, tomorrow is one more day of victory for them.
They've stolen too much of our lives,
too much of our joy,
too many hours, days, years,
too many opportunities.
Even yesterday I know they may have been clawing at the door of your heart.
Even yesterday they may have slowed you down.
They come from inside of us,
echoes from our past,
haunting and invading the present.
We should,
and will,
have more control over echoes.
But the negative voices are not just you.
Though they aren't all from the Evil One,
they are all weapons of the Evil One.
If our hearts are set on God, the Enemy's forces are aimed at us.
The negative voices are a huge part of his weaponry. Today, even if his stupid little minions have not arrived yet, bearing their slings and arrows, they are preparing for battle.
We are creations of the Most High God.
But one of his creations, in eternity past, chose the path of being everything that God is not. Where our God is love – and perfect love, the enemy is "not" love – but he is not perfect.
Darkness cannot overcome the light.
Imperfection cannot overcome perfection.
We have light on our side, and perfection surrounding and within us.
Yesterday when the negative voices slowed me down, the thing that stopped them in their tracks – the thing that spun them around on their heels and sent them on their cowardly and frantic retreat – was the advance of heaven against them.
Heaven advanced by prayer.
How often I try to fight this war all on my own.
But I am not alone.
We are not alone.
On our own the negative voices will continue to attack – to repeat nothing new – just the same old tired words. And those words will cause the inevitable spiral downward. We may perform the basics of necessity – but any dreaming, movement forward, anything grand and good will be stopped.
I know of this pattern. I know well.
It had me by the throat yesterday.
Prayer is what turned it around.
I began a series on prayer long ago.
It finishes in the next two posts.
The last part of the prayer,
oh so fittingly,
is…
"Protect us from the Evil One."
In this Love War against the negative voices,
we will need that protection.
Love. Will. Win.