Last week I declared a "Love War" on the negative voices we hear.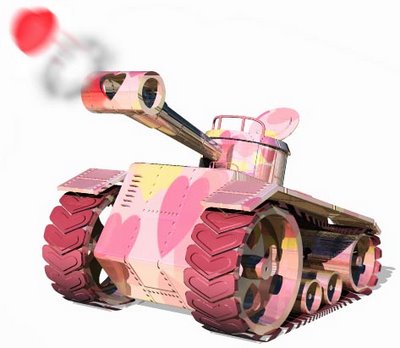 source
But it's really more than just the negative voices.
Attacks on emotions don't always come with catch phrases like,
"you're not good enough".
Sometimes it's just the "feeling" of down. No?
Love lifts up.
The opposite of love tears down.
We are in battle with the opposite of love.
The opposite of love is not the equal of love…
and so there lies our advantage.
If we are edified instead of torn down,
if we are to be able to listen to the nurturing positive voices within ourselves,
and if love is superior to and stronger than the opposite of love,
then we need to stay close to the source of love.
Doing love keeps us close,
prayer keeps us close.
Last Friday I finished my "Love Prays" series that started – believe it or not…
in,
ummm,
meh,

Not that the series was that long – but my attention span is that short.
I have a focus problem it's…
oooohhh shiny!!
See what I mean?
Anyway…
The series is important. Because if we are to battle the giants that are the negative voices inside, or the down-ness, or whatever other attacks the enemy of our Lord has planned for us, then prayer is an essential piece of weaponry for the fight.
And so, before I go any further in the fight I look back on my humble little system of prayer. I know everybody has their way that they pray to our God. My little "system" is just one – but I think God gave me a good one. So I review before moving forward.
The first thing is to keep in constant communication with our God.
I heart twitter and its ever flowing stream of little bitty short communication.
So the first thing about I heart about prayer is the constant "God tweeting" that we get to take part in. (That's here and here)
When I first developed the system I found myself pretty much saying , "Gimme, Gimme" to God all day. So I tweaked the plan – my plan needed…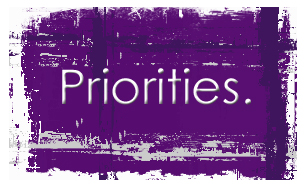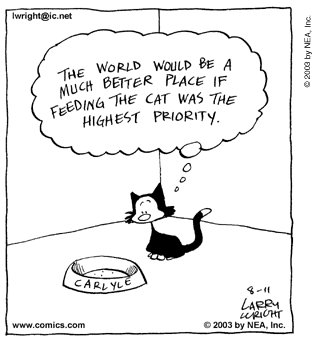 source
(this kartune brawt tu yu bi Laska th love kity)
That aside, the prayer priorities go…
God first,
others second,

me third.
From the moment I'm conscious, any conversation with Our Lord, is first to Him – about Him. Then I can pray some sort of intercession for someone else. Then, and only then, can I tweet him about me.
Seriously, I always want to pray about me first,
and that's not Love.
Oh me of little faith.
This tweaking of the rules is a good check on that.
Then, the next thing, since we can't pray perfectly – I find it very handy that Our Lord left us the perfect pattern to make sure our prayer is always complete.
The Lord's prayer
And not just a repetition of what Our Lord said, but a conversation with him, a personal, comfortable, respectful, chat with him about each portion of the prayer.
So tomorrow I look back on each part – then Wednesday Love commences with the battle.
Don't worry…
I haz a plan…
ooooh shiny!!!!