beefore, meni tymz ago I yuzed tu go owtside
sumtimz I wud see thingz and run
then I wud not no ware wuz home
I wuz not hapi
but kreg findz me allwayz
then I got sik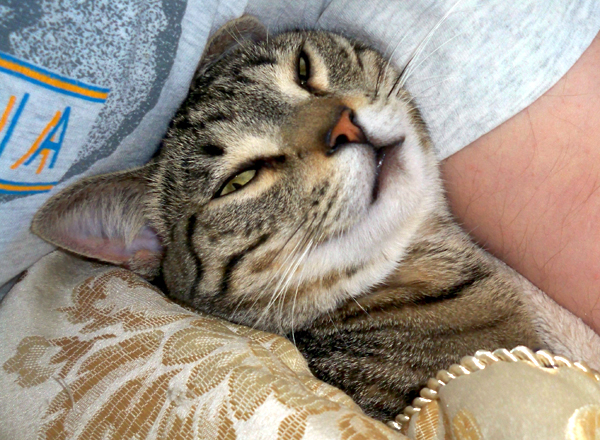 I almost dide
I du not lyk dide
dide duz not fele gud
an I dident go owtside wen I wuz dide
but i did not no voysez until…
red thing!

red thing is skayree
furst tyme kreg puts them on me I run fast
rownd thing grabs nek and hurtz
hutz bad
I try to run frum rown thing that hurtz and red thing but hurtz more
I tel kreg it hurtz an he tayks me inside and takes off rownd thing
and puts red thing away
this hapenz tu more tyms
all timz I run fast from red thing and rownd thing ataks me on mi nek
and it hurtz moor
but heer iz thing
now I heer voysez
I want owtside but voysez sey rownd thing wil hurt me if I go
voysez sey evritime I go owt I wil have hurt nek
I m smart kat
I no now that red thing mayks round thing hurt laska wen he ruz fast
if I se red thing I hide
red thing duz not lyk laska
rownd thing is frendz with red thing
but iz not mene tu me unless red thing is heer
now when i tri tu go owtside voysez sey red thing is thayr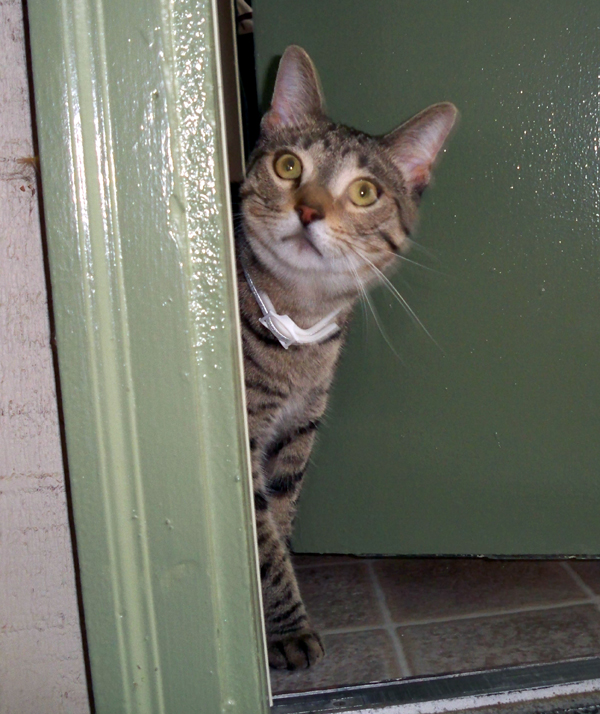 so i doent go owtside – i want to – but am skurd
sumtymz i m brave kat and step go owtside a litel
but voysez sey owtside wil make hurt fore nek
I doent want hurt fore nek
I run to dore and show kreg i want inside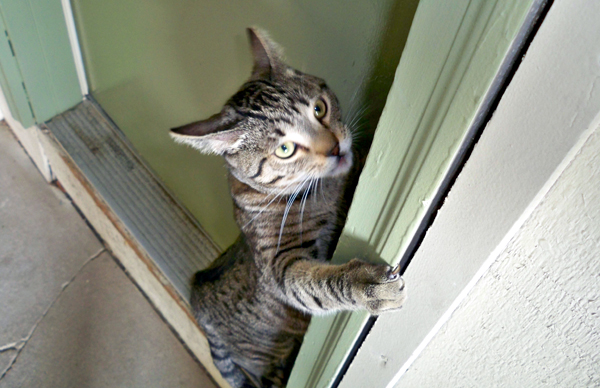 kreg sez be brave but voysez get lowder
an voysez make skaree
i here them evriware
an i m skayrde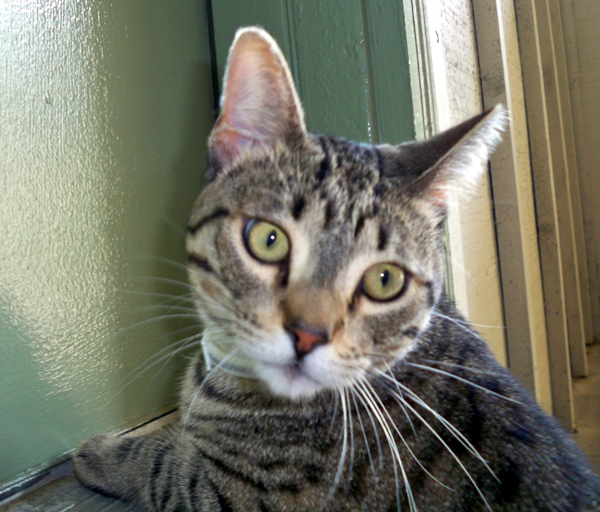 so i yel vey lowd – INSIDE! HURY! PLEZE!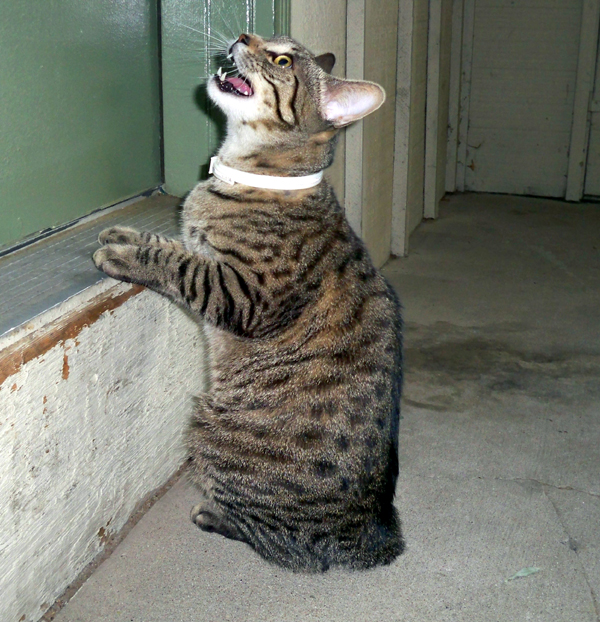 I doen lyk the voysez
they tel me more thingz lyk
wen kreg gose out of dore he wil nevr cum bak
and wen fud is gon frum dish thayre is no more fud
I did not no voysez beefor but I du now
wen i tri to go owtside voysez skare me
they sey red thing wil be thayr
and it wil make rownd thing hurt nek
and lost wil be thayre
and lost is not toy but is like dide
and kreg wil nevr find me
and there wil be more dide
and voysez make me afrayd of owtside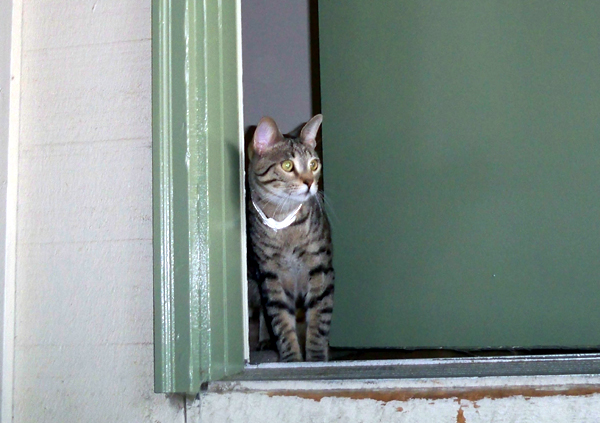 I no owtside is nise
i have good memriez of owtside
like this wen voysez wer not thayr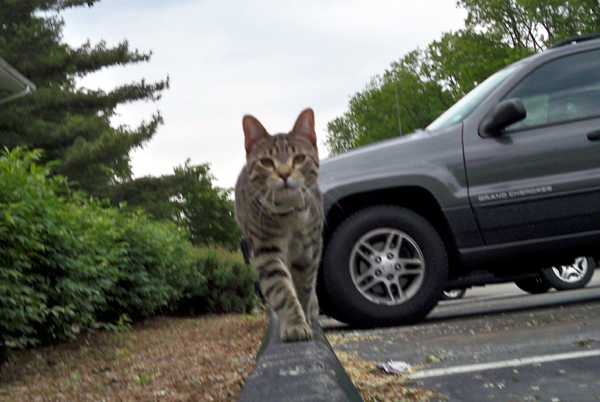 and this tym wen i saw fast toy with bug flufy tale
but I want owstide
owtside is nise
now i m confuze
why voyses sey bad thingz?
kreg always is heer agen wen he gose out of dore
but voysez make me think he nevr is here agen
an I m bigr then red thing
but voysez say red thing wil mayk me dide
and kreg finds me always
but voysez say he nevr wil find me if I go owtside
I doent lyk voysez and I doen like round thing and I doent lyk red thing and I doent like dide and now I doent like owtside anymore
voysez r bad
i hayt voysez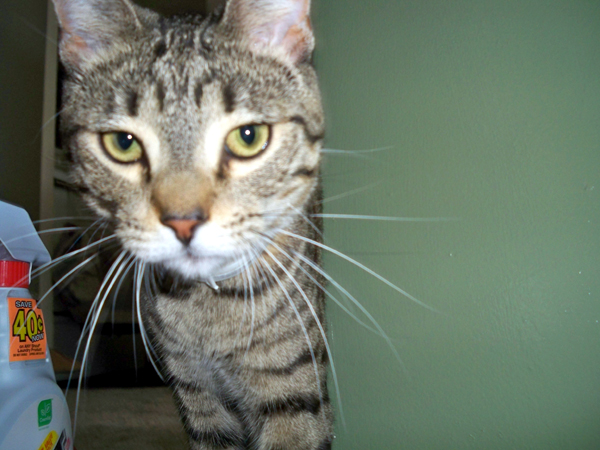 I want tu hurt nec of voysez