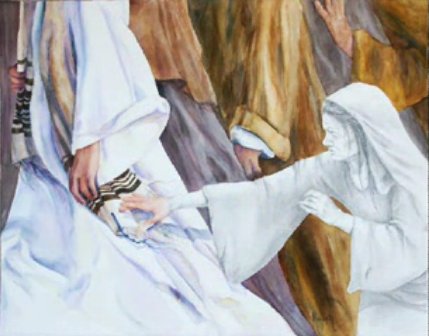 source
So many times when Our Lord healed someone he then told them to get up and do something,
… pick up your stretcher, and go home. (MT 9:6)
…Go in peace and be cured… (MK 5:34)
…Go show yourselves to the priests… (LK 17:14)
This Love War against the negative voices that steal so much from us, requires a reliance on prayer, and Our Lord's forgiveness and healing.
Then when he picks us up after we have fallen we must then…
"go"
I say we – because I fight them too…
and they slay me…
and he heals me…
and I…
like you…
just have to then …
"go"
carry on,
keep moving,
through the successes…
until the next fall.
Our Lord is love and light.
The inner critical voices are all clouds and shadows.
They will constantly condemn.
They will take away desire to move.
They will never forgive but always accuse.
Anything that is not love – is not God.
The negative voices then?
They. Are. Not God.
I will be on my knees often today,
because just the will to fight the inner critical voices isn't enough,
will is imperfect…
God is not.
will falters…
God does not.
will fails…
God does not.
I'll be praying for me – but also for you. If you are fighting in this war against the negative voices I'll be praying for you!
Because it's horrible how we listen to our own negative voices,
it's horrible how we listen to the voices of the minions of the Evil One…
as they both seek to stop us,
and make us feel unworthy,
and make us feel unwanted,
and make us feel undeserving,
too flawed,
too unlovable,
too unforgivable.
I'm angry at the inner critical voices today.
I was angry at myself yesterday, and as I lay down to sleep, and as sleep didn't happen, and as the voices snuck into my dream.
Yes, only one dream.
I have written of this and some day I'll write a full post on it so I don't keep repeating little bits and pieces.
Today will be a physically miserable day, and the emotions will want to go along with the body.
They will want to go the way of the gray skies and steady drizzle and distant thunder outside my window.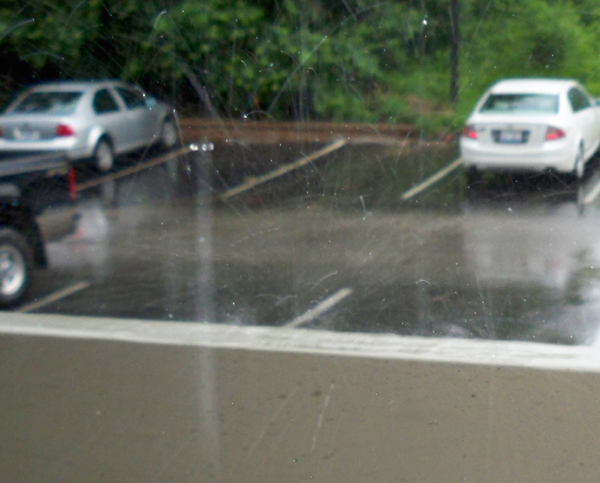 I will be vulnerable to all the inner critical voices.
How do I know this?
It's because, as I said, I had one dream,
and had it through the night.
It was there when I woke each time,
all 20 or so times,
and it was there when I returned to sleep each time.
It was one dream…
and a million posty notes…
and failure…
and chaos…
and condemnation…
and guilt…
and one posty note…
with one dot in the middle…
just a dot…
and I knew it said…
"forgiven, now go…"
So today I'll be praying lots…
so today the sleeplessness,
and weakened body,
and the gray outside,
and the voices inside,
will. not. win.
Oh, how I forget too often that prayer is the first line of defense.
So today the war continues,
more posties will be added to the wall…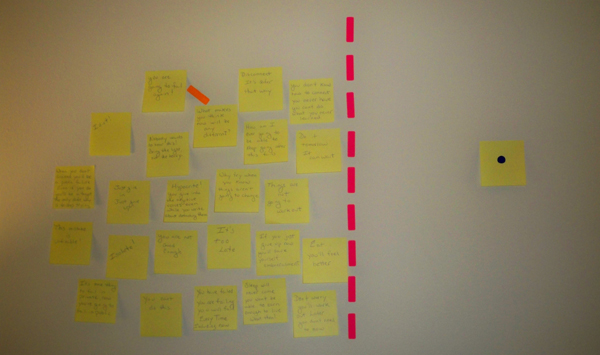 (If this wall is new to you – please read here – you will heart it I promise.)
and the most important posty added to the wall will be…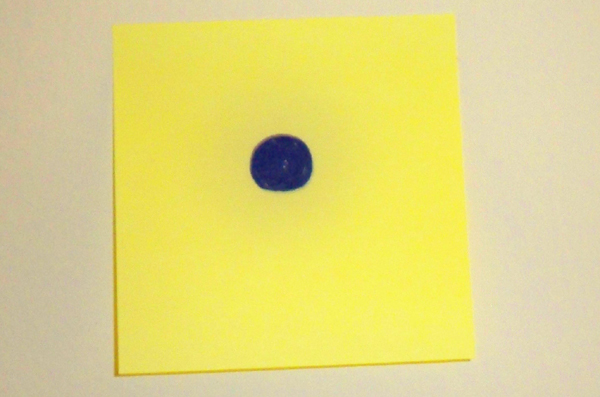 and now you know what it means…
"forgiven, now go…"