And so we have a war underway. It's a Love War, no bullets, but love.
No casualties – except stupid negative voices that hold us back.
And to really "get" this Love War you need to know what this is…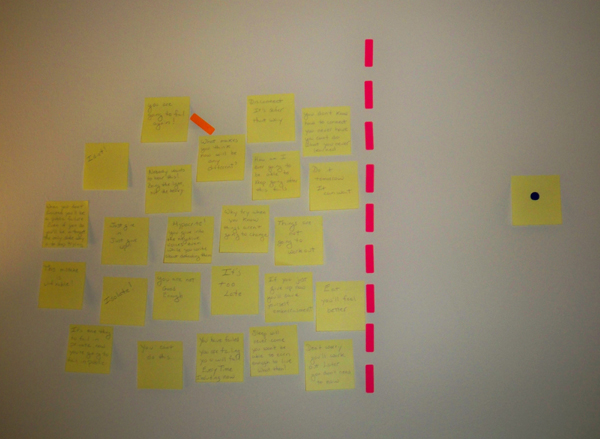 If you've never seen this before – please click here – and my sticky note craziness will all be explained.
Oh, and the Love War includes the occasional quote from Sun Tzu, an ancient Chinese general who has really good stuff to say about fighting wars…
Like…
In the practical art of war, the best thing of all is to take the enemy's country whole and intact; to shatter and destroy it is not so good.
I've been wondering lately- as I've been amassing an army of posty notes on the wall – just what we're going to do with these stupid negative voices as we conquer them? The bigger the voice cloud gets, the more I realize how much destruction has been going on inside myself.
The wall won't stay this way for long – changes are coming – good changes.
Anyway, what's going to happen with all these posties, these negative inner critical voices?
Love doesn't randomly kill and destroy – that's the job of non-love.
One bit of Love War strategery is to win over the enemy…
by making the deadly enemy…
an encouraging friend.
And that's a hint of what lies ahead.
This war against all of those posties which are growing in number on the left side of the battle line, is one of transformation – not necessarily destruction.
As Sun Tzu said…
To subdue the enemy without fighting is the epitome of skill.
But that's down the road a little…
What's up next is to identify and isolate more of the enemy.
We need as many posties on the wall as possible.
The more that are on the wall (or board)…
the fewer that are repeated in our head.
So to that end…
a different kind of inner critical voice to identify and isolate…
one that operates with a velvet glove…
It doesn't growl like this one…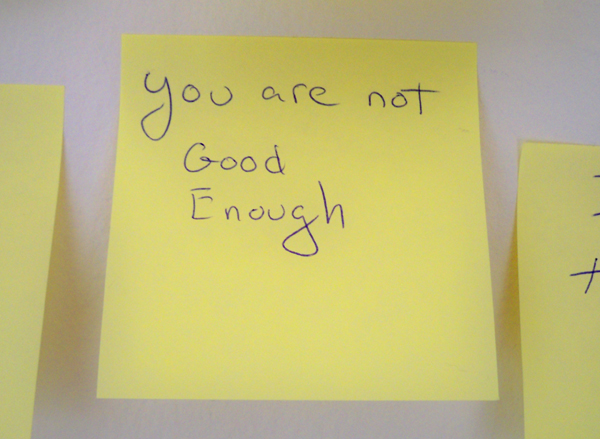 It sounds like helpful advice.
It doesn't enter by way of spears and swords.
It enters by way of invitation.
We want help. This negative voice offers backhanded, critical, hurtful attacks in the guise of benevolent guidance. So we invite the enemy in.
It's a little like this…
Sneaky and complicated this enemy,
and so…
refined and sophisticated our strategery.
If, in the metaphor of Love War, the harsh inner critical voices are the foot soldiers,
all hack and slashy…
the velvet gloved one's are spies.
So I need to keep accumulating the growly foot soldiers, and posting them, and now begin to identify a bunch of these velvet gloved spies. To this end a little bit of Sun Tzu …
It is essential to seek out enemy agents who have come to conduct espionage…
So true General Sun Tzu…
Next time that's what we do…
and I really didn't mean to rhyme.