I m soopereeor kat
i rite blogz

an I klime vary big playsez
on top uv brown thing

(that iz seeling abuv me – vary hi in ayr)
on top of skware things with things inside

I m soopeereeor kat

I jump vary far

thayre iz no kat lyke me
menee tymz ago kreg sez to laska
u r not humbul
I think yes – iz tru
I m not humbul
I m laska
hu iz humbul I wundur?
du I no humbul?
wen I doent unerstan kreg I jus preeten  he duzent sey wurds
or I jus walk away

kreg sez – see wut i meen?
i think – wutever!

but he duz maykes me think
so wen i m owtsyd think
an I see othur litel thingz – they are les then mee so I hunting them
I m lyk king of world – they r smawl an I m betur

agen kreg sez I m not humbul
an so I think he meenz a thing
lyke I m tall kat

or I m brayve kat not afraid of spydurz

so I think abowt wut humbul iz moor
kreg telz me wurdz but I wil lern myself
I wuz wun hu teld kreg put spydur in tupurware an I will du speriment
an I think spydurz iz humbul
spydurz wantz hyding all tymz
spydur is less then mee
he is smawl an I m vary big tu him
he is skayerd of me
I m betur then spydur
an he braykes – hiz leg kayme off all by self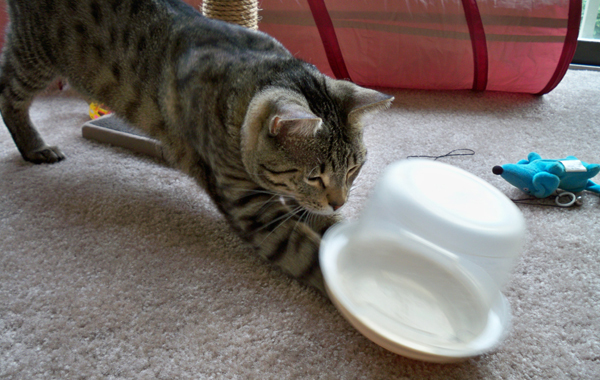 kreg sez maybe this is wi
i think spydur is jus less, he is deefectiv…
maybee that iz wi hee iz humbul
i maybee wud bee vary humbul if mi legz fel off fore no reezun
Kreg took spydur awey
but I lernd aneeway – humbul is to no u r litul
an spydur thinks I m more an he iz les
an maybee tu no ur legz fall off tu eezee
maybe that is humbul
but spyder wuz skayred
is humbul skayred?
an I remember I have voysez that skayre mee
the storee of skayree voysez I rote here
iz sad store – but litel funee – go reed storee!
sinse that storee I m skayred of owtside for some tymz
but i wunderz…
humbul iz skayred – lyk wen i heer voysez?

iz that rite?
humbul is skayred?
I must think moor
I wil hav ansur next wenzday fore wen I post agen fore an vozkampz wauk with him wenzday
an emilee at impurrfikt prowz (but i m not impurrfikt)


here iz pikchurz