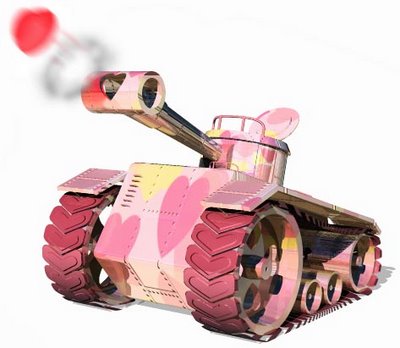 source
This…
This is the Love War Tank.
I heart the Love War Tank. Look!! It shoots hearts!!! And has tank treads made out of hearts!! And it's pink! PINK!!! Seriously, what's not to heart about the Love War Tank?
Anyhoo…
let me admit something right here at the start…
the Love War against the negative voices has gotten a wee bit…
complicated.
And my Love War Wall…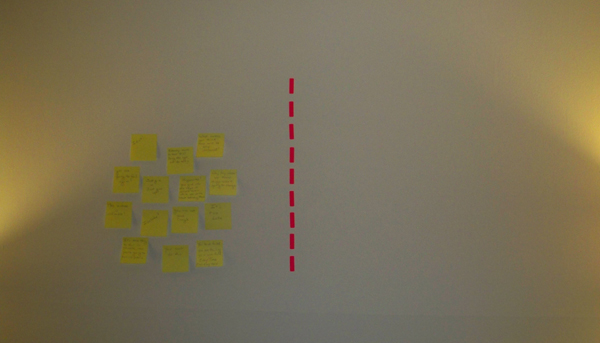 a plain old battle line down the middle,
a left side and right side,
the negative voices written on posties and put on the left and nothing on the right side because…
well…
in the first place, honestly there weren't too many positive voices hanging around,
and second – I had other plans for that side.
It now looks like this…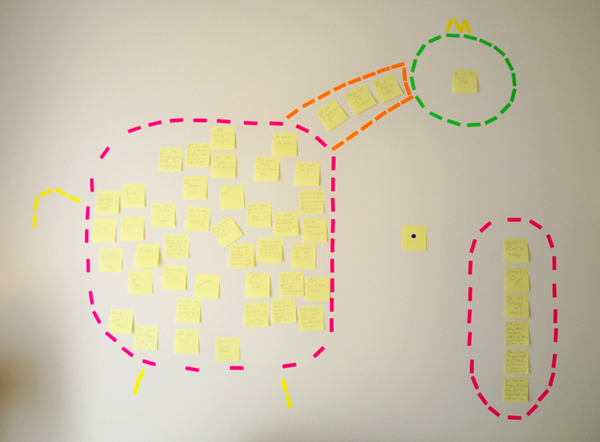 So I figured it was time for a little recap of the evolution of the Love War Strategery – and the Wall. Because maybe you were absent a little for parts of it.
But not to worry…
I think I was absent a little while I was writing parts of it (◠‿◠) …
we'll start with that dot in the middle.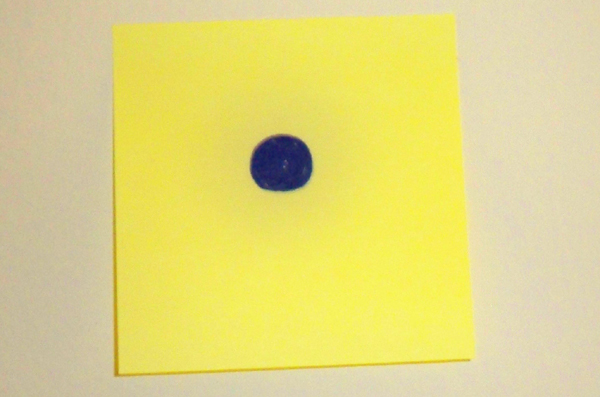 That came from a dream.
Really.
I wrote about that here.
The dot?
That's Our Lord.
I realize that a dot isn't a popular symbol for Our Lord – but hey, it was a dream!
Anyway, he's helping me with these negative voices,
he can help us all with the negative voices.
I heart the dot.
And maybe I better capitalize that, "Dot" – because it is – well…
God.
We need the help of the Dot because the negative voices are insidious, and even come from different places.
They come either from our own past,
as repeated echoes,
because that's the way psychology works.
Stuff gets planted in our tiny brains as kids,
and gets repeated and reinforced,
and that stuff becomes the way we think and feel.
The other source is the spiritual one.
Whether I see it or not, admit it or not, know it or not,
around me, around us, constantly, are unseen forces.
There are Angels, and there are fallen angels.
The Angels are sent to help us, to love, and be dispatched by us to help others.
The fallen angels are sent to hinder us, to be non-love, help us to hurt ourselves, and others.
Invisible, but real…
and acknowledged or not it makes no difference.
They're there. They're here right now.
I wrote a little more about that on Deep into Scripture once, here.
The Dot is sending us Angels – the enemy of the Dot is sending us the stupid fallen angels.
And some (and I think sometimes all) of the negative voices are from the stupid fallen angels and their even more stupider leader. And I don't mean stupid in the "dumb" sense – but stupid in the – well – STUPID sense.
You know?
Anyway – two sources for the voices – inside – and outside.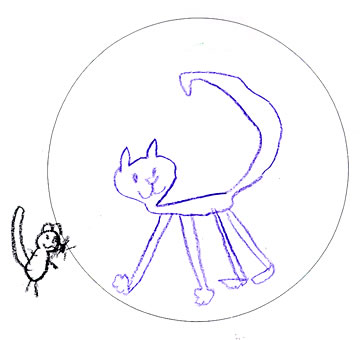 source
Regardless of their source, they're both effective, both a result of the Fall, and both seek to steal kill and destroy (JN 10:10).
And just in case you want to get ahead a little bit in the war (because I'm admittedly moving slowly)…
this is where were heading…
That voice in the green circle above,
in the training coral,
that's the one voice that's the biggest and baddest of them all.
We are going to put the voices in that "training corral" one at a time.
And we're gonna be asking questions…
like, "Where did you come from?"…
and, "What do I do when I hear you?"
and we'll role-play a little bit…
because I know this much about many of you guys…
you're a little like me…
you are super supportive for other people…
and super hard on yourself.
In the role play we'll be nice to ourselves…
and give the negative voices…
a new voice.
The Love War continues…