We hear those inner critical voices – and respond to them.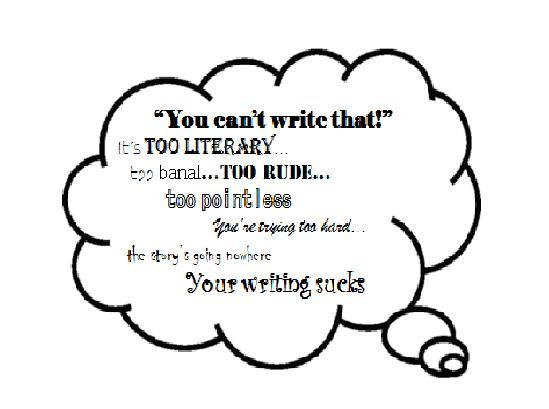 source
But they're just thoughts…
only shadows…
they can't do anything about what they say…
the only power they have is the power we give them.
So…
back to the Love War Wall recap.
The first part of the battle was to pay really close attention to every negative voice that entered my head and pin them to the wall.
Then I decided to box them in. I corralled them like horses.
They didn't like that and they pushed back – hard.
Soon an army of posties was on the wall.
And the voices, which had became posties, then became wild horses needing to be broken – in order to be ridden. And I needed a separate corral – the green one – away from the other horses – and that orange path leading to it.
Oh, and I noticed at this point that the corrals kinda looked like a horse.
So, I gave the horse ears…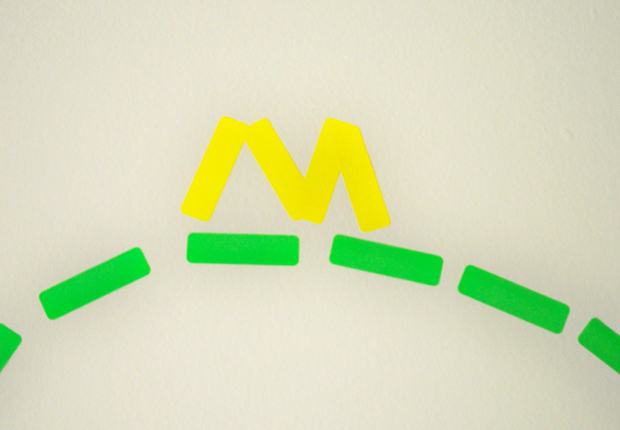 and a tail…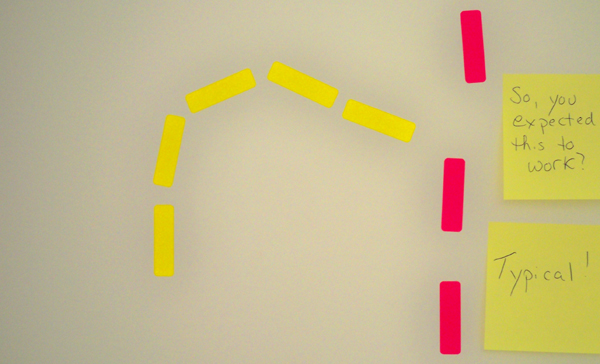 and legs.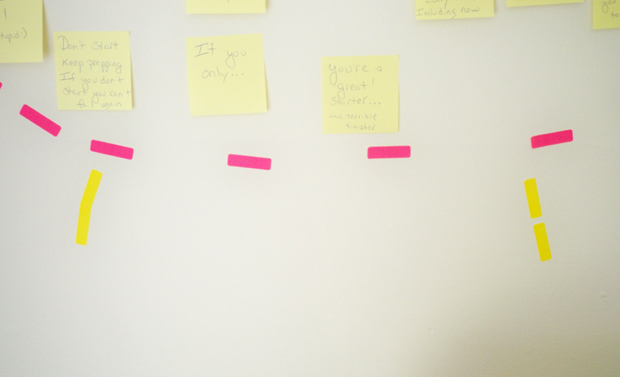 I was going to remove them but Debbie told me in the comments to leave them on because they lended an air of fun to all the heavy. And since you guys are the boss of me – I did as told.
The next step was to separate the wildest of the wild.
A top ten was easy to do.
I just grabbed the nastiest ones from the corral.
Then I took two of them. One was worse than the other – it went on top.
I now had two in order.
I grabbed another and matched it against the top one. It wasn't as bad, so it went below – but it was worse than the other one so it went above it – in the middle.
Now I had three in order.
I grabbed a fourth one and started at the top. It wasn't as bad as that one, or the next, or the next – it went at the bottom.
Now there were four horses in a row.
I just kept repeating this process for the other six horses and voila – my top ten…
All separated from the herd in a separate corral…
and the top one in the training corral – all by it's lonesome.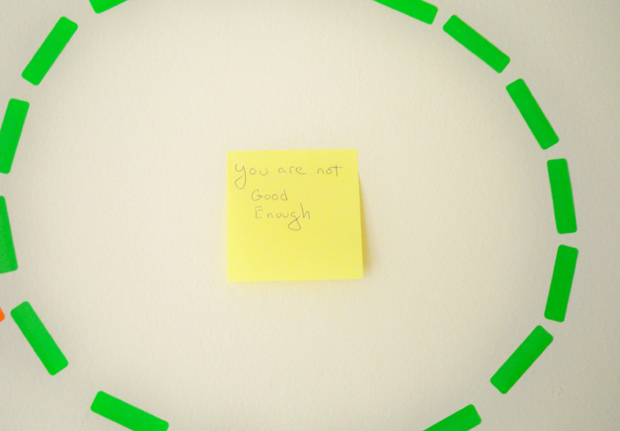 Some of you have told me you're battling hard against these voices – and you aren't winning. That may be because we've only been gathering intel. We haven't really started fighting back yet. So maybe it's time to start breaking the horses one at a time.
I'll have more techniques next week.
But this weekend I'll be putting one horse at a time in the training corral.
I'll be asking the two questions from yesterday's post.
I'll be writing the answers on the posties.
I'll be giving the answers a voice.
And interestingly, while writing down what the voices say steals some of their power – writing down the answers to these questions yields understanding, and some self-compassion – and we. gain. power.
Next time – more ways to break the horses.
And one more little thing…
this weekend will be about praying…
for you…
all weekend.
I promise.
My timer will be set for the top of each hour – and when it goes off – I'll pray.
I'll be praying for strength, and angels, and determination, and insight and the upper hand to be gained. If you're in the fight with me you will be prayed for every. single, hour. I'm. awake. I'll even pray for angels to be by your side when I'm not praying – or if I skip an hour.
If you get a moment,
can you pray for others in the battle.
If everyone is praying for others, and not themselves
… well …
that's Love…
and there's a certain kind of Love magic that happens…
when that happens.