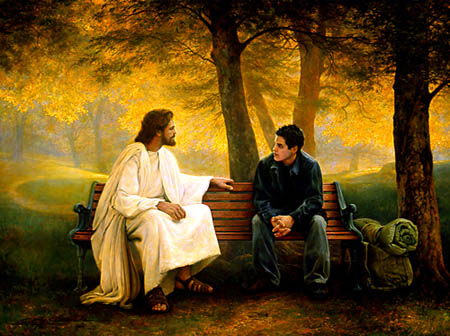 source
I could be crazy…
or I could have a live imagination…
or I could have really had a chat with Jesus…
at any rate, here's the transcript…
It's all about finding a kernel of truth in my number one biggest inner critical voice…
the one that says, "You aren't good enough."
As seems awfully fitting…
the words of Jesus…
are in red.
"Was I good enough to win over the Sanhedrin? Pontius Pilate? Was I good enough to save both the thieves on the cross? Was I good enough to cause Judas not to betray me?"
"That was different." I tell him. "That was all playing into the plan. To convince the authorities would mean no crucifixion and no salvation. To save both criminals on the cross would mean forcing your will upon one who wanted nothing to do with you. To stop Judas from his appointed task would be to prevent the will of God. Besides, I believe you to be perfect. You're not going to convince me that you aren't good enough."
Let me share something with you guys, some of you already may know. But now that I've started this whole "transparency" thing I can't seem to stop. I have failed at more things than I have succeeded at. In the eyes of the world, I am a walking definition of lack of success. If all I could see was what the world sees – well – that would decimate me. But I see more – my saving grace is that there is more than what we can see, and eternal value in whose I am – not who I am. Anyway back to the conversation.
"Am I real?"
"Yes. You're real."
"You sound certain."
"You know I used to have doubts – tons of doubt."
"And what did you do with those?"
"I stayed with it until I found answers to them all."
"Tell me a little about that." (Jesus the therapist)
"I studied and found that the accounts of you in the Gospels were more historically valid than any "history" we have from your time. And over the years I have experienced your hand in my life in real ways, ways I can't explain away – even though I've tried. It wouldn't make sense for me to think you weren't real."
"And what else? Not everyone has walked your road of a thousand doubts with thousand answers. But they still believe. Are they crazy?"
I didn't feel much like answering – so there was silence.
"Are they?" he persisted.
"No." The answer was brief. It was a little terse. I wasn't really looking for an argument. And I really wasn't wanting to be convinced.  How much love does the God of all things have to bend so low for someone like this?
"So I am real then?"
"Yes." I said with a roll of the eyes, then a closing of them, and a resigned nod.
"If I am real, are you good enough?"
"I know the theology. No, you are the only one who's good. I'm not, but there's grace."
"But this voice, this negative voice, where's the grace in that?"
"There isn't any."
"That tell you anything?"
"It tells me where the voice doesn't come from."
"Craig, what's the core of your being?"
Change the subject much Lord?!
But then, he's always the disarmer, isn't he…
never the expected,
always the surprise,
always the Jesus we wouldn't think he'd be.
There's more to the conversation, so I've continued it over on Deep into Scripture today. Would you consider scooting over there to continue it? Just click here – to go there.