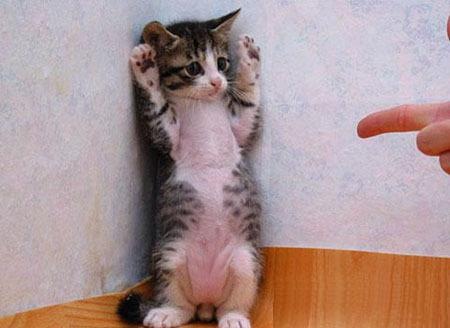 source
I know it's the third time in a row I've used this picture – but seriously – how absolutely full of awesome is it?
Anyway…
the conclusion of the Conversation with Jesus about the voice that rings so loudly in not only my head, "You aren't good enough!"
If you missed any part of the conversation, and would like to fill in the details…
Part one is here…
and two is here…
and three is here.
and four is here.
part five is here.
Remember – the words of Jesus are in red. (◠‿◠)
"Did you ever hear this negative inner voice in regard to your faith?"
"Constantly?"
"What did you do?"
"I kept digging, asking questions, finding answers. I kept talking to you – the one I said I didn't believe in."
"Has your faith been 'good enough'?"
"Apparently – it's been 26 years since I began to believe – and now I believe more than ever."
"Now what about the world's game of 'success' – have you been 'good enough' there?"
"I am good at certain parts of it, I have failed at most. But the world's game is kind of absurd anyway. To take a really good look at things from only the world's perspective – I'm a speck on a blue dot, which is less than a speck in the universe – whatever part of the world's game I'm 'good enough' at, without you, it doesn't mean a single thing anyway."
"So if earthly success is not the full reality, what is?"
"That there's Someone who created all of this…
and there's a purpose to life…
with or without earthly 'success'…
and in that fuller reality…
I am good enough…
succeeding in the thing that matters most…
but haven't given up on earthly dreams…
the 'earthly' is reality too, even though the lesser one."
"One last question."
"I know what it is."
"Go ahead then."
"Do I want your will above my own?"
"Do you?"
"I want what I want – I can't lie to you. But you know I want what you want above my own will."
Do you have the positive kernel of truth for your posty note now?
"Yes. In the game of the world I'm not good enough, but nobody is. It's not the fuller reality anyway. In the true purpose of being I'm also not "good enough" but am, by your Grace. Even then, I wouldn't have your Grace if I hadn't chosen rightly. So in that part of life – the eternal part – I am good enough – and I really do want your will above my own."
"That won't fit on the posty – better edit."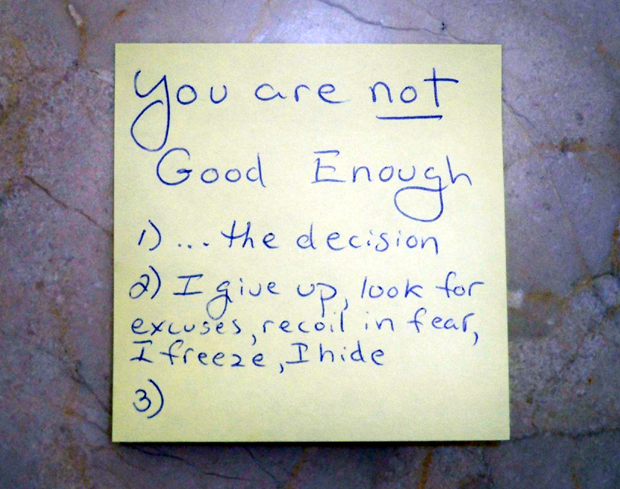 (((smile)))
The posty note is part of the Love War against the negative voices that hold us back. The Love War has it's own category on the side bar. It's the third one down in the "Lots of Love" section". This post kinda sums it up.
"OK – editing…
I'm not good enough in the ways of the world, but nobody is – and I won't give up.
I am 'good enough' in the ways of God…
guaranteed because of Grace.
and the higher way is the way better thing to be good enough at…
and Your will not mine."
"That's edited?"
"It's my first edit. I heart lots of words. I'll finish the editing today."
(((smile)))
"A good place to stop for the day?"
"Yes."
"Kernel of truth revealed in the negative voice lie?"
"Yes"
"On to breaking the next horse?"
"Yes."
Funny, how in the end, someone as wordy as me was reduced to just one word.