source
We had just moved from Brooklyn New York to St. Louis Missouri – a 5th grade city kid in the suburbs.
Third and fourth grade were spent in a Catholic school in Brooklyn. I was "Catholic" only by my mom's remarriage. I knew nothing of either God or Catholicism – and was an outcast because of it. But these new "country" kids, they liked me, and the positive attention that I wasn't getting from the one person I really wanted, they eagerly gave.
I was paying too much time and attention to entertaining my schoolmates and not enough on school.
My mother, who married my new father because he was smart and successful, was ready to hand this problem over to him. The expression, "Wait until your father gets home!"… my mom hadn't yet figured out how horrific that statement was for me.
I peered through the drapes, in dread…
as his car pulled up…
then, resigned and quiet…
I sat on the bed…
bracing for what I knew was coming.
By this time – and I don't know why – beatings had pretty much ceased. There was the occasional hard slap on the head – the kick in the back as I lay on the floor, blocking his view of the television. But there were no more beatings.
Maybe my mom had warned him.
Maybe it was because he had twin children of his own on the way.
Maybe he just got tired of physically venting his anger on a little kid.
But the fear was there every single time he approached me.
I had a cat before Laska the love Kitty…
his name was Froofy the miracle cat…
and yes, they look a lot alike…
and yes, my cats also seem to come with titles…
anyway…
he was a rescue kitty too…
and his beginnings were violent and abusive.
He learned to trust me…
but every time I reached down to pet him – he'd flinch.
He had to know from experience that I would never hurt him…
this cat, who in his dying hours held on so tightly to my neck I couldn't pry his paws from me…
because I was the safest place he knew as a tumor in his brain was exploding…
he trusted me…
but his experience from the beginning, when he was younger…
when he was beaten,
and terrorized,
and abused…
it always came back to him when I reached to pet him on the floor.
Only in his last days did it finally stop.
It took impending death to overrule that reaction caused from his early years.
I don't really like sharing all of this. I'd rather everyone think I have it all together, I'm stronger than any negative voice, have a faith that never flinches, and am as successful with life as I am with words. I want to give you all the illusion. But I promised to be honest. I promised "no masks".
In the War on the negative voices, this is the posty note currently in the training pen.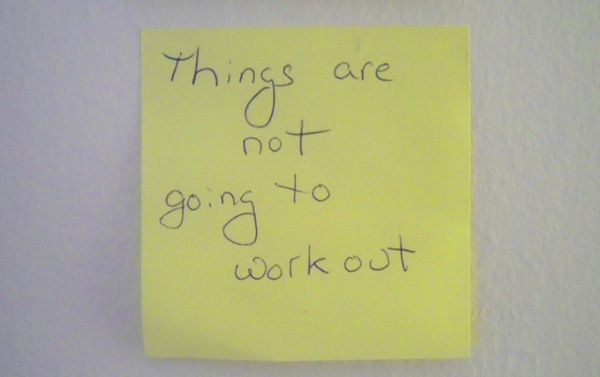 If you are new to the Love War on the negative voices that hold us back, it began here, and all the horse stuff, and posty note stuff is explained here. (And it has a whole category of its own over on the side bar – in the "Lots of love" section – if you're a teensy curious)
We'll name this wild stallion "Nejistá". That's pronounced, Nayeestah – with the emphasis unexpectedly on the last syllable, where it kind of lingers.
It's Czech for "uncertain".
And I've got questions for this negative voice, because it needs transforming from wild to tame.
But first a deep breath…
this mustang is a little wilder than I thought.
I'll lead him back into the training pen next time.
Please come back.