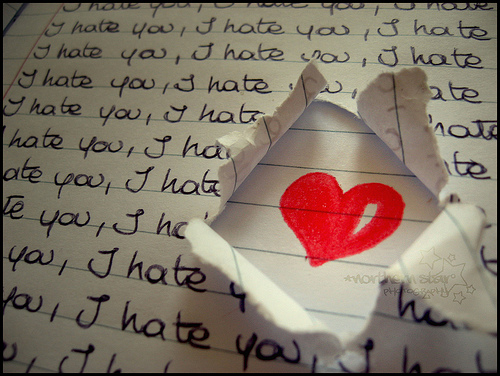 source
Here's a first for a thank you list. This list began as an "I hate" list.
Yup – an "I Hate" list.
I wondered if taking an "I hate" list…
and bringing it before God…
and turning it around…
if that could be a useful thing.
I pretty much hate the hard – and only later see the blessing in the bad. I'm thinking that if I could do this consistently and immediately then life would be better.
And so, keep in mind, that this week there is an official "I hate" list behind this official "thank you" list.
I'll call these particular thank you's the "better late than never thank you's".
Thank You God…
#495 … that You love an imperfect me.
#496 … that so long as I choose the life of faith in You I can never disappoint You beyond Your forgiveness. There's no one else, anywhere, of whom we can honestly say that.
#497 … that there is this life to live, and grow, and learn, and exist, and that there is a place and time when everything will be perfect, and better, and I, and we, will keep living, and keep growing, and keep learning, and keep existing, and everything bad will be gone and everything good will be better.
source
#498 …that not having a single restful night of sleep in 15 years has humbled me, and made me much more usable for You, and given me compassion, finally, for others who are hurting.
#499 … that even the most miserable failure, judged by the standards of the world, can still be a success, in You.
#500 … that it took some time to turn this "I hate' around – but we did. It began as, "I hate that people I know are hurting, and are trapped, and are sad, and there is little I can do to help them." And in talking with You I realized that You must feel like this. I share a feeling with You. I heart that! Thank You.
#501 … that I don't need to know all the answers – I just need to know You.
#502 … that You have given me, given us, a remedy for worry. To know that You are Lord over all things, and that Your will is perfect, and in any situation I can, we can, pray for Your will, and want your will, and have peace instead of worry.
I have to tell you guys that there were some "I hates" that I wasn't able to turn around. Like, "I hate that I don't have a bride to cherish" – and – "I hate when I disappoint myself."
Of course, I hated that I wasn't able to get that done. ツ
And I hate that I can't do this all the time – immediately instead of after the fact. But I heart that I'm forgiven – and I heart that I'm getting better at it.
And the taking the "I hate" list before God – and reworking it in his presence?
source
Works like a charm!