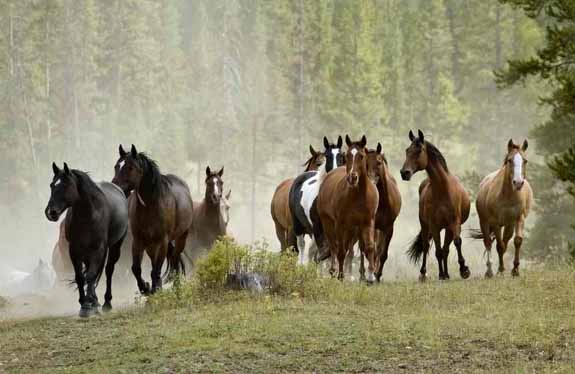 source
So what to do with a herd of wild horses (a.k.a. negative voices)?
We round up as many as we can…
contain them in the corral…
thin the herd (make a top ten)…
then take each one into the training corral, one at a time…
and interrogate them…
"breaking" them and giving them a new voice – a usable voice.
The Love War against the negative voices is nearing the finish line…
it began here…
and the horse "breaking" is explained here….
And over to the right and down a bit on the sidebar, in the "Lots of Love" section…
is the whole history of the war.
And the other day, "A." asked in the comment section, why we retrain the wild horses instead of just getting rid of them.
Good question.
In the beginning I was going to eliminate them. The idea to train the negative voices to be positive, productive members of the society in my head kind of evolved. Wild stallions are bold, smart, strong and fast – so if they can be "broken" – they can really be special. Anybody else read "My Friend Flicka?"
And there was this…
Immediately after the casting out of demons, forgiving of sin, or raising of the dead, Our Lord gave the person he touched something to do. He'd tell them to prepare a meal, or go tell the Pharisees, or leave and no longer do that particular sin. He didn't just eliminate the negative, he added a positive. And if he did it…
And…
this is a Love War…
and in a Love War should there be killing?
After all – the Love War tank shoots hearts!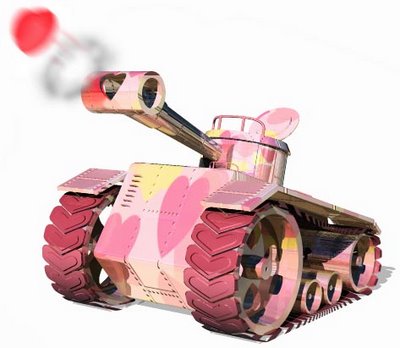 source
Those were my answers. But Cora from Hidden Riches, who has been retraining her negative voices from the beginning, right along with me, and who now speaks from plenty of horse training experience adds…
I tried killing off the horses and they don't die…I shot them, stabbed them, yelled at them, poisoned them, or starved them, they just kept getting back up and coming at me with twice the fury…
*snort* ƪ(◠‿◠)╯ zombie horses
…I found your idea of training the horses much more successful and it does have its benefits. My horses stand there now as testimonies of God's grace rather than in a grave with gravestones and regrets.
Cora is right – I'm not sure we can ever kill the negative voices.
We only get zombie horses that way…
and then we've got a movie on our hands.
And Cora added this…
[retraining them] gives me a whole new way to look at others who are giving in to THEIR voices — in love!
I heart that!
And so there we have it…
this is why we retrain the negative voices…
and we don't send them to the glue factory…
we want useful ponies…
not dead ones…
or zombies…
*snort*