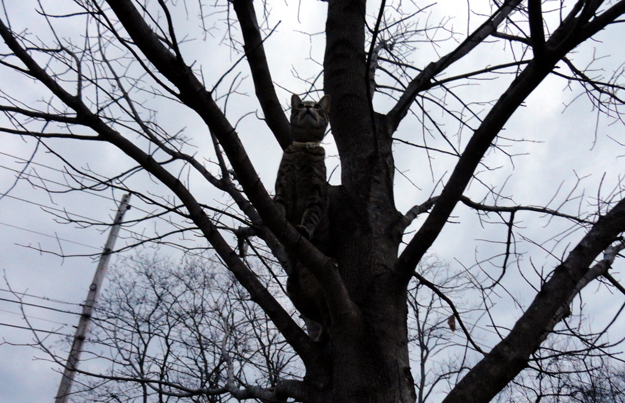 Laska the Love Kitty hearts taking to the trees.
There is joy in chasing after leaves…
or stalking the wind – or small dogs…
but there seems to be a special delight in climbing trees.
He analyzes each move…
pauses to enjoy the view…
constantly explores new ways to go higher.
He gets up the tree by taking a running start, jumping onto the trunk, and climbing up to the first available branch. On some trees that's nice and low to the ground. On others there's a lot of trunk before the first branch.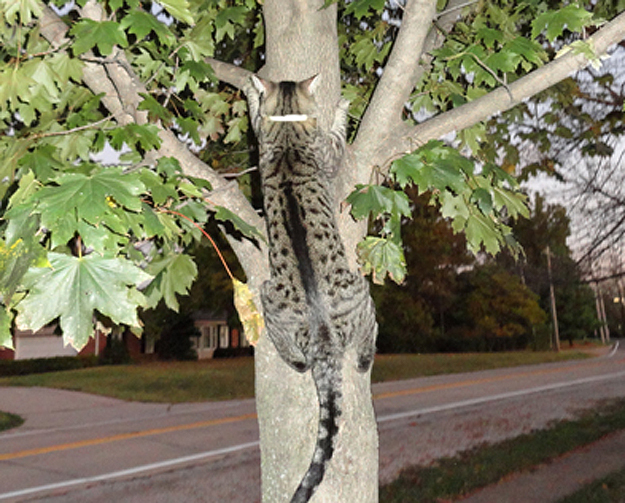 When he decides it's time for down, he climbs his way back that first branch – and if it's a low one – he runs down the tree trunk, seemingly defying gravity. But when that first branch is high…problem.
That was last night…the first branch was 10 feet above the ground.
He made his way down to that first branch…
caught my eyes with a look of caution…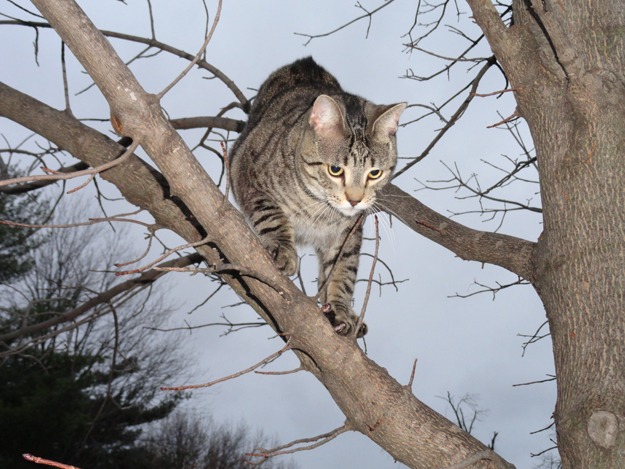 until I reached up…
then he jumped…
onto my head…
a little adjusting and he ended up snuggling into my chest…
and I held him  while his adrenaline dropped…
and then gently lowered him to the ground…
and off he ran to stalk a gray toy with a fuzzy tail.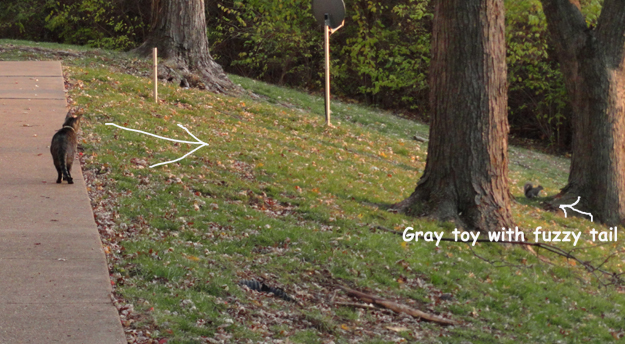 Last week my intentions were good but things went way wrong. Last week was embarrassing, and anxiety ridden, like that dream where you show up to class in your underwear.
But that was the bad.
The good is that Mondays are for thank you's.
I'm thankful…
#688… for an avalanche of e-mails that assured me that my friends knew my intentions, and believed in me, and trusted me.
#689… for their advice…I asked for wisdom…and I got it.
#691… for the tough words of a friend, because a good friend will speak the truth in love.
#692…for  the way friends were hurt because I was hurt, they wanted to both heal the hurt, and stand with me in it.
#693… for our Lord, because he's the first person I went to…
I didn't even know what to do other than to just bring the hurt before him, and not ask anything really, not for help, not for solutions. I just dropped my sword and looked up for a smile. And I knew He cared, and He hurt because I was hurt, and He wanted to both heal the hurt, and stand with me in it.
#694… that God is a friend.
#695… for the strongest and best emotional crutch that there could possibly be.
#696… that God uses ever more creative ways to teach me things.
#697… that he cares, even though he doesn't have to, even though he knows our earthly struggles are nothing in the eyes of eternity. He still stops and comforts, and heels, and gets involved in the minutia.
#698… that I asked for this to be a humble Christmas, and it's ok that my first lesson in humility came in the form…
of humiliation.
counting with lots of others at Ann's