Alice in Wonderland is not a book for children.
source
There's a reason Disney has never been able to properly translate it into a movie. It's about drugs. It's about insanity. It's about change, death, rules, logic, illogic and language.
But it's not a children's book.
After my 170 hours of no sleep I needed things to hold onto in the sea of chaos it ordained.
Alice in Wonderland was…and is, one of those float-y things.
So I want to share with you some of my favorite quotes from Alice in Wonderland.
It'll take a few posts to cover them all. At the end of the posts I'll put all the linkies in case you want them all at your fingertips.
And so…
"and what is the use of a book," thought Alice " without pictures or conversation?"
…down went Alice after it, never once considering how in the world she was to get out again.
…nor did Alice think it so very much out of the way to hear the Rabbit say to itself,`Oh dear! Oh dear! I shall be late!' (when she thought it over afterwards, it occurred to her that she ought to have wondered at this, but at the time it all seemed quite natural)
`Well!' thought Alice to herself, `after such a fall as this, I shall think nothing of tumbling down stairs! How brave they'll all think me at home! Why, I wouldn't say anything about it, even if I fell off the top of the house!' (Which was very likely true.)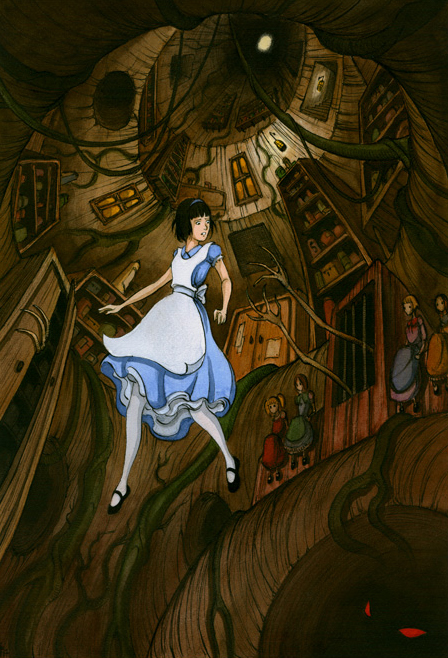 source
Down, down, down. Would the fall never come to an end! `I wonder how many miles I've fallen by this time?' she said aloud. `I must be getting somewhere near the centre of the earth. Let me see: that would be four thousand miles down, I think–' (for, you see, Alice had learnt several things of this sort in her lessons in the schoolroom, and though this was not a very good opportunity for showing off her knowledge, as there was no one to listen to her, still it was good practice to say it over)
And here Alice began to get rather sleepy, and went on saying to herself, in a dreamy sort of way, `Do cats eat bats? Do cats eat bats?' and sometimes, `Do bats eat cats?' for, you see, as she couldn't answer either question, it didn't much matter which way she put it.
Part two of the best Alice in Wonderland quotes is here.

And if you know nothing of this present battle…
but you are kind enough to wonder about it…
here are all the "down the rabbit hole" links.

Scribbly thank yous after 56 no sleep hours
Gathering darkness after 80 no sleep hours
Only words, and not good ones after 150 hours of no sleep
The aftermath after the 170 hours of no sleep
The dodgy ascent from the descent

No sleep, down the rabbit hole, thank you's to God.
The battle – the no sleep aftermath.
Love says no sleep battlefield  thank you's to God.
Love remains the true anchor, the best gravity.