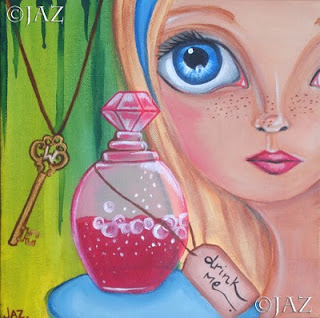 source
It's just a book, supposedly for children…one strand in the rope that saved me from the oblivion of  the "there and nowhere" of no sleep madness. So just a few posts for…
the best "down the rabbit hole" quotes from Alice in Wonderland.
…if you drink much from a bottle marked `poison,' it is almost certain to disagree with you, sooner or later.
She generally gave herself very good advice, (though she very seldom followed it)…
…for this curious child was very fond of pretending to be two people. `But it's no use now,' thought poor Alice, `to pretend to be two people! Why, there's hardly enough of me left to make one respectable person!'
…`for it might end, you know,' said Alice to herself, `in my going out altogether, like a candle.'
Alice had got so much into the way of expecting nothing but out-of-the-way things to happen, that it seemed quite dull and stupid for life to go on in the common way.
`Curiouser and curiouser!' cried Alice (she was so much surprised, that for the moment she quite forgot how to speak good English)…
Who in the world am I? Ah, that's the great puzzle!
…`and things are worse than ever,' thought the poor child, `for I never was so small as this before, never!'
`Speak English!' said the Eaglet. `I don't know the meaning of half those long words, and, what's more, I don't believe you do either!'
`It was much pleasanter at home,' thought poor Alice, `when one wasn't always growing larger and smaller, and being ordered about by mice and rabbits. I almost wish I hadn't gone down that rabbit-hole–and yet–and yet–it's rather curious, you know, this sort of life! I do wonder what can have happened to me! When I used to read fairy-tales, I fancied that kind of thing never happened, and now here I am in the middle of one! There ought to be a book written about me, that there ought!'
Alice noticed with some surprise that the pebbles were all turning into little cakes as they lay on the floor, and a bright idea came into her head. `If I eat one of these cakes,' she thought, `it's sure to make some change in my size; and as it can't possibly make me larger, it must make me smaller, I suppose.'
It sounded an excellent plan, no doubt, and very neatly and simply arranged; the only difficulty was, that she had not the smallest idea how to set about it…
Oh, and part one of the best Alice in Wonderland quotes is here.