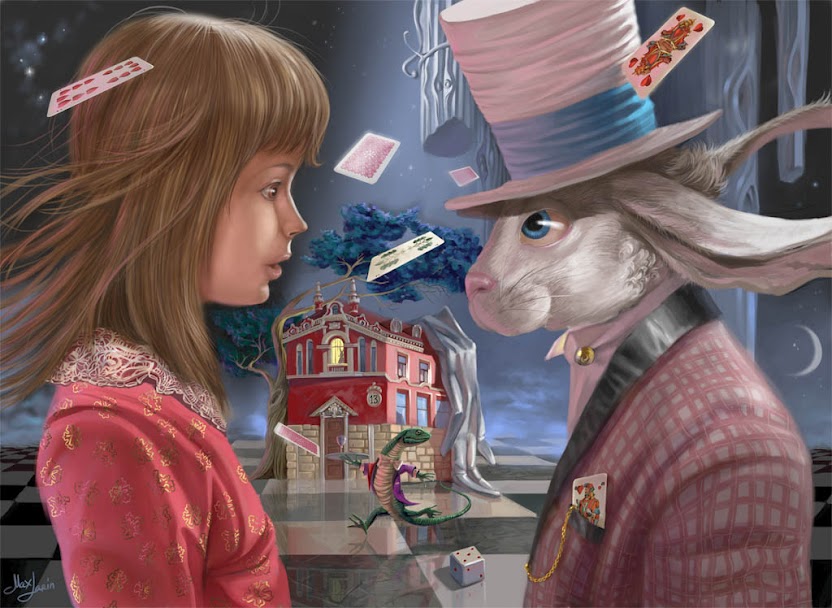 source
Alice in Wonderland…
enigmatic, puzzling, befuddling…
but at its heart, a tale of getting lost, being the wrong size in the wrong place, and dealing with the mayhem that ensues. In the end it's about finding the way out of "the rabbit hole".
And so the best quotes from Alice in Wonderland…
If I had a world of my own, everything would be nonsense. Nothing would be what it is, because everything would be what it isn't. And contrary wise, what is, it wouldn't be. And what it wouldn't be, it would. You see?
The Caterpillar was the first to speak.  `What size do you want to be?' it asked. `Oh, I'm not particular as to size,' Alice hastily replied; `only one doesn't like changing so often, you know.'
This time Alice waited patiently until it chose to speak again. In a minute or two the Caterpillar took the hookah out of its mouth and yawned once or twice, and shook itself. Then it got down off the mushroom, and crawled away in the grass, merely remarking as it went, `One side will make you grow taller, and the other side will make you grow shorter.'
`But I don't want to go among mad people,' Alice remarked.  `Oh, you can't help that,' said the Cat: `we're all mad here. I'm mad. You're mad.' `How do you know I'm mad?' said Alice. `You must be,' said the Cat, `or you wouldn't have come here.'
The chief difficulty Alice found at first was in managing her flamingo…
Alice soon came to the conclusion that it was a very difficult game indeed. The players all played at once without waiting for turns, quarrelling all the while, and fighting for the hedgehogs…
`I don't think they play at all fairly,' Alice began, in rather a complaining tone, `and they all quarrel so dreadfully one can't hear oneself speak–and they don't seem to have any rules in particular; at least, if there are, nobody attends to them…"
The Queen had only one way of settling all difficulties, great or small. `Off with his head!' she said, without even looking round.
`Tut, tut, child!' said the Duchess. `Everything's got a moral, if only you can find it.'
"Never imagine yourself not to be otherwise than what it might appear to others that what you were or might have been was not otherwise than what you had been would have appeared to them to be otherwise."'
`I think I should understand that better,' Alice said very politely, `if I had it written down: but I can't quite follow it as you say it.'
Oh, and there's one more post of quotes on the way.
The previous quotes and pictures are here…