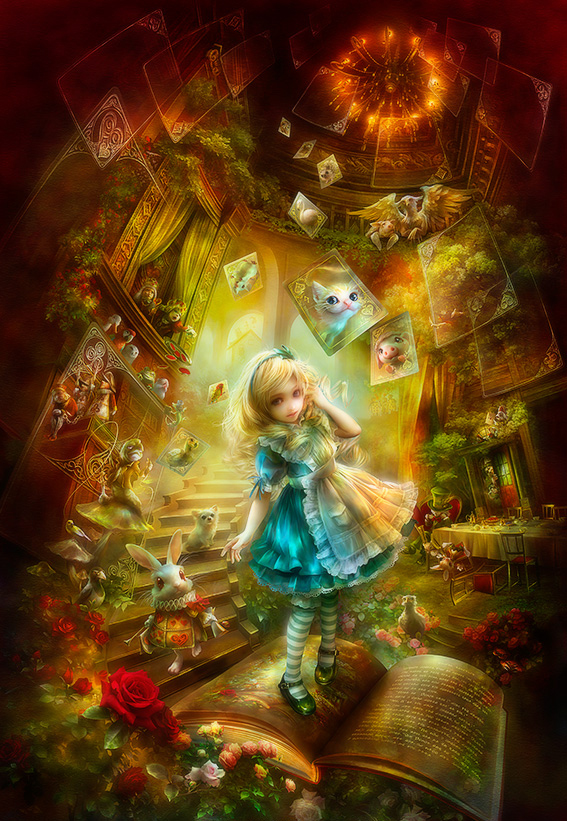 source
If you've ever been "down the rabbit hole"…or if you've ever felt out of place or time….
then the story of Alice and her journey through illogic, illusion, and insanity…
searching for a way to be neither "too big" nor "too small"…it's for you.
Anyway…
Mad Hatter: Would you like a little more tea?
Alice: Well, I haven't had any yet, so I can't very well take more.
March Hare: Ah, you mean you can't very well take less.
Mad Hatter: Yes. You can always take more than nothing.
"I could tell you my adventures–beginning from this morning," said Alice a little timidly: "but it's no use going back to yesterday, because I was a different person then."
As they walked off together, Alice heard the King say in a low voice, to the company generally, `You are all pardoned.'
`Come, That's a good thing!' she said to herself, for she had felt quite unhappy at the number of executions the Queen had ordered.
`What fun!' said the Gryphon, half to itself, half to Alice. `What is the fun?' said Alice. `Why, she,' said the Gryphon. `It's all her fancy, that: they never executes nobody, you know. Come on!'
`I'll tell it her,' said the Mock Turtle in a deep, hollow tone: `sit down, both of you, and don't speak a word till I've finished.' So they sat down, and nobody spoke for some minutes. Alice thought to herself, `I don't see how he can even finish, if he doesn't begin.' But she waited patiently.
`That's the reason they're called lessons,' the Gryphon remarked: `because they lessen from day to day.'
`They were obliged to have him with them,' the Mock Turtle said: `no wise fish would go anywhere without a porpoise.'
`Here!' cried Alice, quite forgetting in the flurry of the moment how large she had grown in the last few minutes, and she jumped up in such a hurry that she tipped over the jury-box with the edge of her skirt, upsetting all the jurymen on to the heads of the crowd below, and there they lay sprawling about, reminding her very much of a globe of goldfish she had accidentally upset the week before. `Oh, I beg your pardon!' she exclaimed in a tone of great dismay, and began picking them up again as quickly as she could, for the accident of the goldfish kept running in her head, and she had a vague sort of idea that they must be collected at once and put back into the jury-box, or they would die.
`It's a pun!' the King added in an offended tone, and everybody laughed, `Let the jury consider their verdict,' the King said, for about the twentieth time that day.
`No, no!' said the Queen. `Sentence first–verdict afterwards.'  `Stuff and nonsense!' said Alice loudly. `The idea of having the sentence first!'
`Hold your tongue!' said the Queen, turning purple.  `I won't!' said Alice.  `Off with her head!' the Queen shouted at the top of her voice. Nobody moved.
`Who cares for you?' said Alice, (she had grown to her full size by this time.) `You're nothing but a pack of cards!'
And with that she swatted away all the cards…
overturned all of Wonderland…
and returned home.
Oh, and the other three posts:
Quotes from Alice in Wonderland (pt 1)
Quotes from Alice in Wonderland (pt 2)
Quotes from Alice in Wonderland (pt 3)
You can't escape "there and nowhere"…
until you decide to be fully in the "here and now".