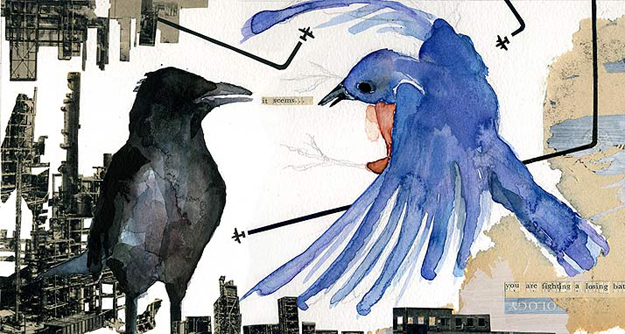 It has been a year since Sara left this earth. I wrote this last year on Deep into Scripture. I do not want to forget.
Sara is dying…
and I can't look away…
and I feel the dark doorway…
eternal joy on the other side…
but approaching the door…
I think it's this…
Then the angel said to the women in reply, "Do not be afraid! I know that you are seeking Jesus the crucified. He is not here, for he has been raised just as he said. Come and see the place where he lay. Then go quickly and tell his disciples, 'He has been raised from the dead, and he is going before you to Galilee; there you will see him.' Behold, I have told you." Then they went away quickly from the tomb, fearful yet overjoyed… (MT28:5-8)

The Greek word translated as "overjoyed" is:

(pronounced like Kara – but with a guttural Jewish "ch" like in chutzpah)
And I can't help but notice that the Greek word for Joy is only one letter removed from Sara.
χαρα (chara)
σαρα (sara)
Identical, but with the letter χ (chi) removed…and replaced by σ (sigma)…
and here's the math…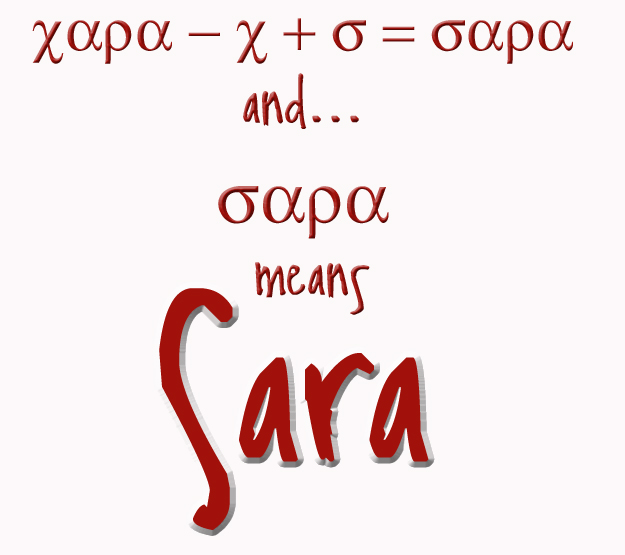 And this gives me "bluebirds singing" kind of joy. But joy a multifaceted gem. It can be bluebirds, or the deep Christian joy, regardless of feelings, that knows a loving God is in control.
Or like in the passage from Matthew, bluebirds mingled with blackbirds.
I can't help but wonder if this is the same joy that Sara sees now.
The end of life means gaining eternity and there must be joy…
but to discount any and all fear is simply wrong…I just know it.
I feel both joy and fear.
I feel it bone deep.
I won't discount either.
From this side of eternity, despite our romanticizing of it, death remains an unfamiliar dark doorway. Death is the end of everything definitively known to us and trusted by us – countered by the hope of what is believed. Are any of us honest, despite our faith, when we say we have no fear of death?
It's a stranger bearing joy (χαρα) mingled with fear.
Paradox.
Death is something definite and vivid…
pointing to the mystical and unimaginable.
Dying alone must be dreadful.
But dear Sara is not alone.
She has untold prayers directed her way…
she has family and closest friends at her bedside…
I know she has angels brushing her with wings of love…
keeping any demons at bay…
and she has God reaching through the dark doorway.
For even if a Christian dies alone…
a Christian is never alone.
I'm thinking of you Sara…
joy mingled with fear…
praying hard…
believing hard…
loving hard.
♥✞ღ
Here are all of this month's Sara posts.
You might heart them as much as I.
In which it's the small things
Love remembers when eternity touches time
In which sorrow submerges joy
Love prays peace, courage, faith, and knowing
In which are "eternity touching time" thank you's to God
Love is eternity touching time
In which there is hard love
Love believes beyond the dark doorway
In which everyone should have at least one
Love is the faith of a child
In which there is keeping watch