I'll continue the Jeanne of Arc letter tomorrow.
But I have a previous commitment with Ann Voskamp and others for …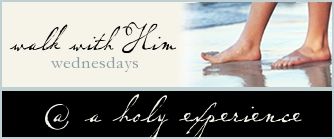 Ann asked, "What are your new habits for 2011 and how are you making them happen?"
It's really just one new habit – one new thing – and it happens just by doing it – everyday.
Because of Ann I named this year "connection".
So every day I practice.
It sounds simple,
but it's killing pieces of me
and it hurts.
It is blistering hot and icicle cold,
and too much to handle,
and yet still not enough,
It's breaking my heart.
Because love is connecting, and I didn't know that true connecting in love means…
…to feel the heart of another.
So people have prayed for my year of connection – and thank you.
But I'm receiving something different from what I ordered.
What I've gotten is this heart I can't turn off.
There are no knobs, or switches, and I can't make it stop.
It's breaks every day – and I can't make it stop.
People are despairing – and I feel it!
And I can't make it stop.
My eyes are open and there just seems so much more struggle than joy.
I get buried in the pain, it hurts, it pierces.
I climb down into the dark holes to be with people.
And I despise the darkness.
But this way they aren't alone there. And because they hurt I hurt, and I can't make it stop!
It's been going on for weeks. I should be grateful – and I am. I shouldn't complain, but I am.
There's just so much sorrow,
and it's not mine to begin with,
but I'm filling up with it
and it's becoming mine in the end.
I'm bursting at the seams because there's just no room for it all.
The friend who is slaving away and staying true in a marriage when he is getting nothing in return but misery  – and he's keeping it together for his kids.
The man who is now, in his forties, and friends of his have died, and he's questioning everything, his life, his worth, and he's drowning in the silence of the non-answers. But he's not telling anyone.
These things, they are killing parts of me. It's because of a life lived with blinders on. I would come along side someone hurting, but never really enter in. I feigned caring because I was Christian and I didn't want to be seen as heartless.
But I was.
I was heartless.
How does God love someone who is heartless?
How good is God? How patient to wait all this time…
and so I start a blog…
and then Ann Voskamp says "name the year" – and so I do…
and everything turns over on itself…
and is that God whispering. "Good, I've been waiting a lifetime for this'.?
So Ann, how am I making this new habit happen?
I just keep plunging in every single day, and I hate it, and I love it.
The one battling depression that threatens to suck me in too. I can't sit and hear without dying a little. But I listen – and she cries – and I cry – and sometimes just stay silent, when she's silent. And we don't talk – but it hurts just the same.
This hurts – everybody. It's new and it hurts. And I don't want to do it anymore. It's easier to not feel this. There is bliss in ignorance. I don't have that anymore.
I don't even feel my pain so much. There's no room for wallowing in puddles of me.
I guess that's good.
And there is the hearing of a man whose wife had a stroke and lies without waking. And it slays me. The husband – the anguish – and the kids – and I cry. I can't help. I can't fix. I can only feel – and pray. I could do that. So I did that. But it hurts.
And it's all too much…
And I don't want to do it anymore…
but I hunger for more of it…
Does that make sense?
I know the answer to this already. But I still want this question answered again.
Why so much pain and struggle?
Not me, I'm just one, I mean everybody.
Why all of it hidden behind masks?
If everybody is hurting like this why is everybody "fine" when you ask?
Why aren't we grabbing each other down to the gorund
and sharing all of this
and praying about it like we care
and listening
and helping each other.
Why?
Why aren't we connecting?
And since this is a kind of
pour your heart out post
I'm also linking to one of my
very favorite bloggers…
Shell@Things I Can't Say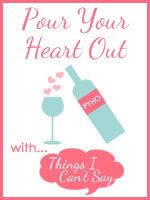 In God's Love.