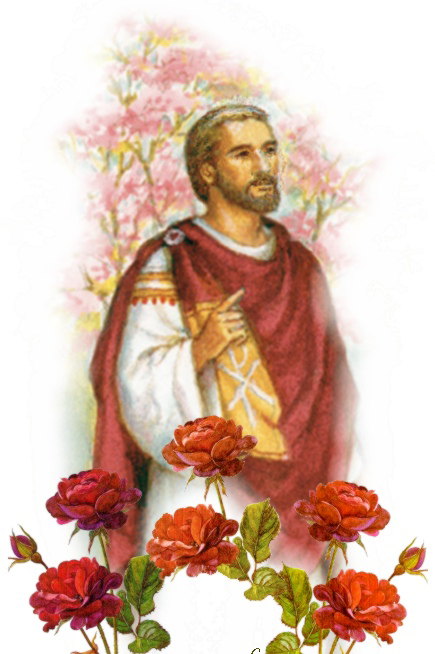 The year was 269 AD.
The place: Italy.
The Emperor Claudius outlaws marriage in the Empire. His hopes? To increase the size of the army – with men having no ties to a wife.
There was one man who defied the edict.
These are the long lost journals of that man.
The Bishop of Interamna.
St. Valentine
February 14
A dove sat in the courtyard today as I concluded the ceremony. Into the house they came under cover of morning mist. They entered as two and departed as one. Claudius will not win. There will be marriage among God's people.
The edict of an Emperor cannot stop the will of God. He wants an army to conquer by force. I will build an army of Christian Love, by marriage – and within a generation the kindgom of God will overtake that of Rome.
March 14
Today Claudius declared there is no One True God, and that Our Lord is not King over all. Still I baptized 12 more into the Kingdom of God today. The One True God will not be silenced by the mere dictate of a tyrant. Shout to the stars of your gods, O Claudius. They are nothing – and cannot even vanish as dew on the ground, because they don't even exist.
April 14
The number of secret marriages increases by the day. Hundreds in just months. And not just from Interamna – but all of Rome. But whispers are in the wind. Rome is not deaf to the heartbeat of love. Soldiers are inquiring where the marriages are taking place.
Claudius has ears throughout the city. What should I do, Lord, if they darken my doorstep? I am not sure of this. But of this much I am certain. I shall continue to marry, and continue to baptize, and your kingdom will continue to grow.
Of whom shall I fear? If the Lord of Love is with me who can stand against me. Though there be no marriage in all the Empire, here love will reign.
May14
I find I cannot marry fast enough those who come here. By legions they arrive, from every corner of the Empire.   At first it was by invitation and now it is by siege.
They arrive at all hours, without the discretion required for secrecy. I am marrying hundreds, thousands, but what was once clandestine is no longer such.
They call me now Bishop of Love. They call my home the fount of love. There is never enough food or wine. No other Bishop will perform the rites, marriage is all but dead –  except by God, through my hands.
So I will remain awake day and night. If this be the only place for marriage to survive, then so be it. Lord give me strength.
Yet the path is ever more pronounced – the one leading to my door. Claudius will soon know.
But I see the faces of the brides and men. I see the joy in their moment. I see the holy kiss and the fire that burns in their breasts.
And yes, a part of me wants the same. But it is mine is to marry others – and never to marry myself. Still, strangely enough, I hear a voice on occasion. It tells that one day there may be. For with men this is impossible but with God all is possible.
*
This is a big story – and the inspiration just hit to write it – and so to get it all in it by the Big Day it will be sharing space on the twin site of Love – Deep into Scripture. So please scoot over there to read part 2 of "The Lost Journals".
Just click here.
In God's love.