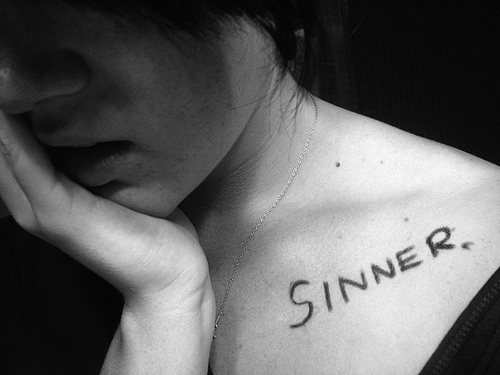 Yesterday I felt the need to write about forgiveness. Today I figured out why.
I forgot, we're in the middle of a series on the Lord's Prayer.
The next part of it is, "forgive us our trespasses". (or debts, or transgressions)
We've all memorized this part different ways. So which one is "right"?
Well there is a word for "sin", in the New Testament, and it's not this one. The word for sin is
ἁμαρτία
(pronounced hamartia – emphasis on the "ti" – and with the always necessary Greek accent and appropriate hand gestures.).
I know it's a technical thing. But it's a completely different word in The Lords' Prayer.
A really deep study of this word is more something I'd tackle on Deep into Scripture, and it's now on the list, believe me. Because I want to go really deep, like:
how the Greeks used it
you know,
guys like Plato and such.
And when they translated the Hebrew Old Testament into Greek, which Hebrew word was it used translate?
And dig into the derivation of both of the biblical languages – and all the different uses.
But all that study isn't gonna get me to a different place, it's just gonna tell me why I arrived "here".
And this is "here".
The word used in The Lord's Prayer means "a falling away after being close" or "a deviation from what's true" or "a mis-step, a slip up, a mistake" – and sometimes it's even an unintentional one.
So it's broader in scope then the more narrow word for "sin"
Sins? Well they're pretty easy to spot. I lie – sin. I steal – sin.
But what about if I doubt? Is that a sin?
Or what if I skip church?
What about when I used to make a living by playing poker? I did the research. There isn't a direct command against it. If it was a "sin" Catholics wouldn't have Bingo Nights. And we'd never be able to have a church "raffle" – or a Christian blog "giveaway" – if "winners" are picked by random chance.
I wrestled with the Poker thing. It may not have been sin. But it wasn't right either. I wrote about that here.
The doubting, skipping church, professional poker playing – these are "transgressions and trespasses" and I need to ask forgiveness for them, as well as sin.
Because God said so.
And he is the boss of me.
The word covers sins too. But the one thing this word doesn't mean is "debt". I can't wait to figure out why sometimes "forgive us our debts" is used.
Anyway, the bottom line of love is this.
This is the part of the Lords Prayer I talk with God about the things I've done which have moved me further away from him – and ask forgiveness. Not all of them, by the way, just one or two.
My knees are weak and my sins are many.
And Love demands I do this because "Love does not rejoice in wrongdoing, but rejoices with the truth" (1 Cor 13:6)
And guess what?
In the Greek, "wrongdoing" is even a different word than "sin" or "trespass".
So I guess I'll be looking at that one too.
This is a little more complicated than I thought.
But I heart it!!!
Love hearts knowing "God" stuff. No?
In God's love.