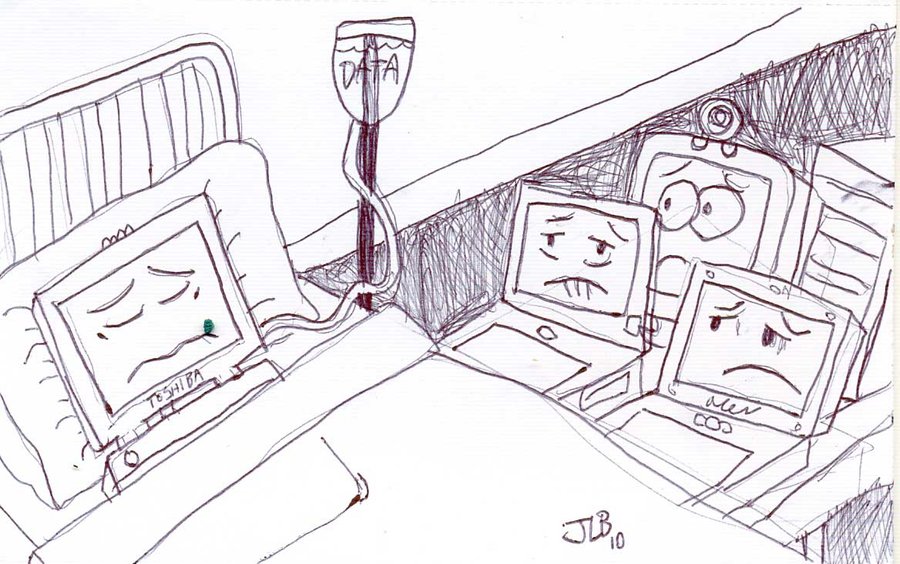 source
Blogging is about to get truly difficult. My computer is really sick so I'll be without it for – well – I don't know how long – a week maybe – and never again maybe. But I'll find a way, I promise.
As I type this. A nasty computer virus is attempting to destroy my computer. And bit by bit it's beginning to stop functioning. For instance – it won't let me get to wordpress to post this. But love finds a way right?
Anyway…this is how it got started.
This morning as I got up around three-ish to begin writing my posts for you, I first did some mindless stuff, because I've been a little sick and you know how motivation wanes when you don't feel good. That, and the medication I take for my insomnia has my brain still on vacation for a while after I get out of bed. If I typed something in that condition it'd come out looking something like this…
lksdjfhpiwarehfpiweunp;asudefh
So I read the comments I hadn't replied to yet…and can't reply to yet (grrrrr – and sorry!)
I checked my analytics to look at all the pretty numbers…
I checked my last posts to see where I left off.
Then I looked at my screensaver shot, a picture of Laska the Love Kitty climbing a tree. I thought, "I want new shot. Something pretty."
So I googled pictures of an actress I heart – who plays a doctor on Grey's Anatomy – just a nice, wholesome, sweet, picture. As a matter of fact, I have it here, I downloaded it a long time ago.
Hmmm. Should have thought of that first…
Anyway…here…
See! Nothing bad.
Meh – I'd be so better off married.
So I click on the nice wholesome picture and bad things start to happen. I see things like this
And then my computer won't let me do anything at all. I do an emergency shut down and disconnect from the internets. But when I restarted the computer, the bad program was still there trying to get me to press the wrong prompt, and thereby bring on computer Armageddon.
There are spiritual metaphors galore in this story. I won't even get started.
Oh, and did I mention the last time I backed up my computer files?
It was this century, but the years and that were still single digits…
something like 08-ish maybe.
Yeah, I know.
Anyhoo…it's sad.
I didn't do anything wrong.
I didn't go where I wasn't supposed to.
I had my antivirus software up-to-date, and running.
But every few minutes this virus is sending me prompts and freezes the computer until I choose an option – the bad one is green and the red one is ok. So tricky!
As soon as I post I'm off to the Best Buy in search of a computer geek.
This whole thing is a super good metaphor for how love is – by seeing how it's not. I may revisit it if I escape safely. There are thoughts on trickery, and how we can go wrong even with good motives, and how we need perfect protection…
I could go on and on…it's a really inspired idea…maybe soon….
…if my computer survives…
more tomorrow…God willing…
please come back.