It started with this…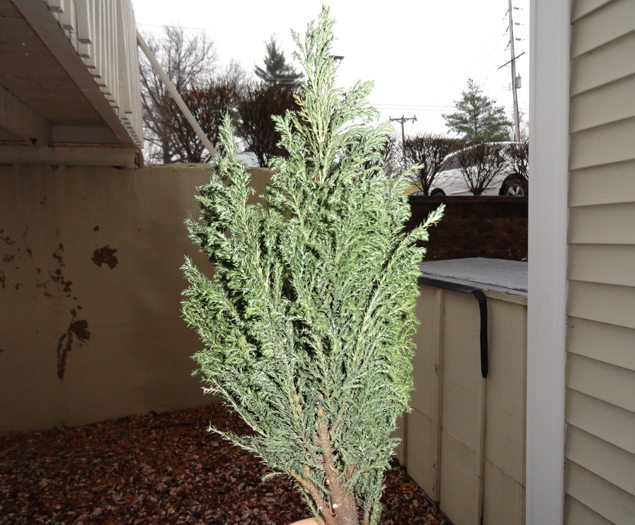 A rosemary topiary
free because nobody wanted it
Not a tree, but almost looked like a Christmas tree
Now, just outside my window is an actual big pine tree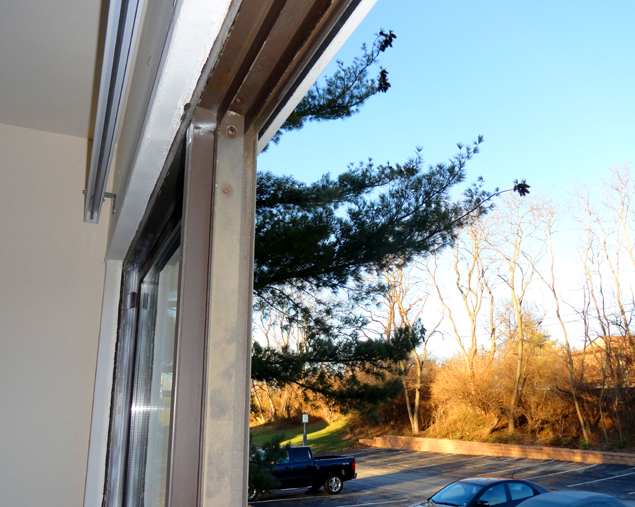 A storm a few years ago left the ends of the branches scattered on the ground
I remember thinking that each would make an awesome…
Charlie Brown Christmas Tree
So the other day in a cold rain
I picked the perfect little branch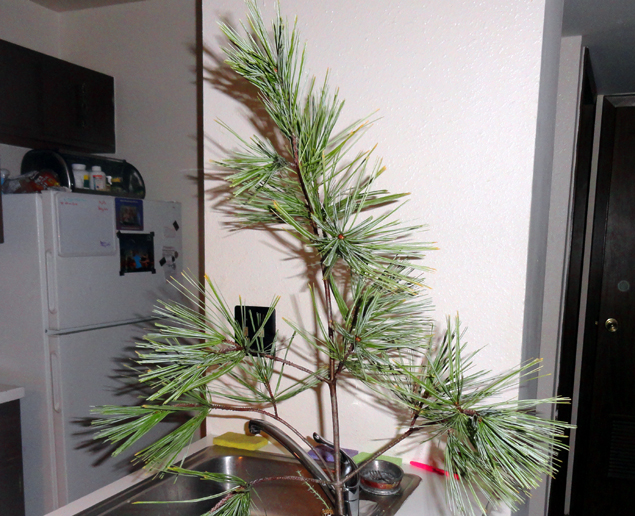 Sorry Pine Tree
But I still needed a stand
The topiary was in a pretty pot
Hmmmmm
Now to chop down the mighty topiary…with my bread knife
I took it outdoors, laid it on its side, and began to saw away
Sorry Topiary
And I hadn't really thought about it until now
But sacrifice is part of the meaning of Christmas
The tree sacrificed a branch
The topiary sacrificed more
I tried shoving the branch in
but the soil was dry and unfriendly
A screwdriver
some water
and in.
A lesson in that too, I think
It was a little tilty
I tried to straighten it out
but then I decided to let it be
although Laska thought the ornament looked silly in the pot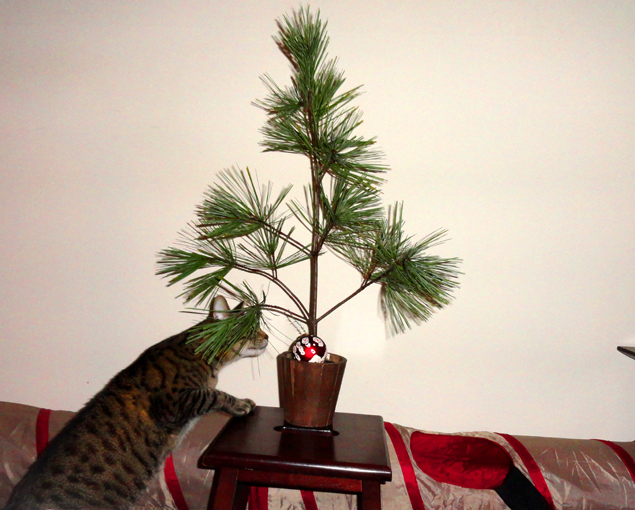 It was perfect – perfection in imperfection – Christmas
A stable, a surprise pregnancy, no room in the inn
And from all that imperfection was born perfection
and from him, the grace by which we can all be perfected
The topiary found its undignified end in the trash – didn't seem right
But then, I thought, Jesus was buried in a borrowed tomb – felt more right
Tree – check
Base – check
Now I needed a red ornament actually on a branch, because Laska made a good point
I have only one Christmas ornament
a handmade gift from a friend
and red
Sadly the ornament has no hook
But, a little story…
When I started blogging I attended a blogging conference
Blogging has been bittersweet, the conference more bitter than sweet
But I read somewhere that you should bring paperclips to a conference
So I bought, and brought, a box
the only box of paper clips I've ever bought
a little bending and twisting and voilà … a hook
Tree – check
Base – check
Red Ornament on tree – check
Perfect!
Until I watched A Charlie Brown Christmas
and saw Linus wrap the bottom of the tree in his blanket
Swaddling clothes for the tree
I had no little baby blanket
nothing soft small comfy and blue
But lately I've been wearing my one stained ratty old blue sweatshirt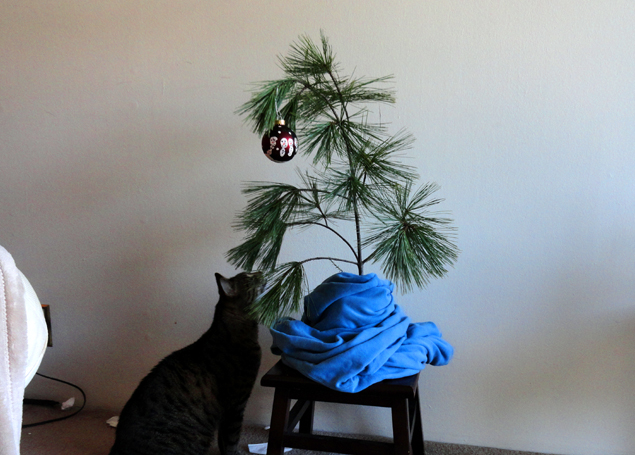 Tadaaaaaa … and Laska admired the placing of the ornament
It's a quiet tree
It's a simple tree
It's a humble tree
It's not really a tree
It's imperfect and charming
It makes me smile
Merry Simple Quiet Humble Imperfect Charming and Hopeful Christmas.